Vignana Bharathi Institute of Technology Proudly Celebrate the college events for every academic year to develop innovative ways of delivering education.
VBIT is celebrating events is all set to epitomize itself as the ultimate platform for budding engineers of various streams.
The Academic Events like Paper Presentations,Poster Presentations,National & International Conferences , Seminars , Technical Symposiums , College Festivals , Guest Lecturers on trending technologies and on Academic Subjects etc .These are all helps to the students to develop their technical knowledge and competitive spirit to communicate with the world.
These events provide the student the most exciting and gainful opportunities for the acquiring of knowledge and technical expertise to groom and orient the young minds.
Vignana Bharathi Institute of Technology Events – 2016-2017 Academic Year
April 2017 Events:-
18-04-2017
VBIT hosted Faculty Development Program on CISCO Certified Network Associate (CCNA) certification from 18th to 30th April 2017 in which 13 faculty members from various Engineering colleges have participated.

12-04-2017
VIBHA 2K17-Annual Day Celebrations of VBIT was conducted on 12th & 13th April, 2017.
Sri. Aravinda Rao, Former DGP was the chief guest on this occasion. Live concert by Tollywood Singers Ramya Behara, Deepu, Suraj santhosh & Bhargavi pillai was organized.

11-04-2017
Aashay- Film club of VBIT has organized short film competition in which 21 short films were screened on 11th & 12th April 2017. Mr.Tharun Bhaskar, Tollywood film Director was the chief guest for the valedictory.

11-04-2017
Aakar-the Final year student projects exhibition was conducted in which 98 best student projects were exhibited on this occasion. Dr.Swamy, Director, Telangana Academy for Skill & Knowledge (TASK) was the chief guest for the inaugural function.

08-04-2017
IETE-VBIT SB in association with VRL industries has conducted workshop on Virtual Reality in which 25 students participated this event in which hands on sessions on crafting, making the VR Box, Gaming etc were conducted.

07-04-2017
Dept. of EEE has organized a guest lecture on Power Quality by Dr.M.Manjula, Associate Professor, Dept. of EEE, Osmania University for III B.Tech students.

01-04-2017
Communication Society (COMSOC) of IEEE-VBIT SB has conducted Colloquium-17 in which three sessions were conducted. The main motto of ComSoc is to provide an insight of new trends, techniques, developing skills and innovative ideas regarding trending technologies.
Session 01:
Scalable platforms for Hyper scale Applications by Mr.S.Radhakrishna, Principal Architect, Wipro Technologies.
Session 02:
Student to Young Professional Transition by Vamsi J Krishna, Head of Academic Relations, stumagz.
Session 03:
Cellular Network Architecture by Dr. Abhinav Kumar, Asst. Professor, Dept. of EEE, IIT Hyd.

March 2017 Events:-
25-03-2017
Dept. of Civil Engineering has organized a guest lecture on Pre stressed Concrete for IV B.Tech students by Dr.G.Rajesh kumar, Professor of civil engineering, NIT-Warangal.

25-03-2017
Avishkar- a unique technical paper presentation Inter round competition was conducted on 25-03-2017. 22 teams with 35 participants from various colleges attended this event. Prize winners are as follows:
Prize
Winners
Topic
College Name
First Prize
Kunal Dubey and Sanath Swaroop
IRTTC


Vignana Bharathi
Institute of Technology

Second Prize
Jay Karan and Hardik Nahata
BRAIN
CONTROLLED

SMART PHONE


Institute of Aeronautical

Engineering


Third Prize
Likhitheswari and A. Sowmya
LI - FI
TECHNOLOGY

Malla Reddy Engineering
College for Women



02-03-2017

Street Cause VBIT division has organized Congregate-2k17 in which action plan for the academic Year 2017-18 was discussed in this event.

01-03-2017
VBIT has hosted JNTUH- Inter Collegiate Zone-D Tournament in which Volley Ball, Basket Ball, Cricket, Throw Ball, Shuttle and Table Tennis games were conducted. 25 Engineering and pharmacy colleges have participated in this tournament.

01-03-2017
VBIT has hosted ISB Idea to Boot Camp for ISB technical Entrepreneurship program students of 2016-18 batch.

Feb 2017 Events:-
28-02-2017
Dept. of H&S has celebrated National Science day on 28th February 2017 in which a guest lecture on Radars by Dr.B.S.V.Prasad, Scientist-G, RCI was conducted.
28-02-2017
Harith-Eco club of VBIT has organized Prakruthika-2k17 on the occasion of National Science day in which events like paper & poster presentations, Eco Quiz, shodha- Elocution etc. Eminent Environmentalist Mr.vijaya RamaRao garu was the chief guest for this event.

25-02-2017
Evolve- Student club of VBIT has conducted a guest lecture on "Gate way to Great Way" for I B.Tech students by Mr.Vimal kumar Thupda, Wipro.

23-02-2017
Stutalk Team of VBIT has organized Saadhya- unique debate competition and student parliament in which 130 students have participated

22-02-2017
Department of Mechanical Engineering has organized MECHATRIX-A two days workshop on Assembly and Disassembly of IC Engines on 22nd & 23rd  Feb, 2017 in which 87 students have participated.

17-02-2017
Department of ECE in association with IEEE & IETE VBIT SB has organized two days National Conference on "Cash less Transactions using Computer and Communications" on 17th & 18th February 2017. Research papers were called on major areas like Computing Techniques, Communications, Networks & Security and Economy. 114 research papers were received, reviewed and published with conference proceedings.

15-02-2017
Inauguration of Canara Bank ATM center in the college campus.

10-02-2017
CINE, Branch Association of CSE & IT department has two day workshop on 10th & 11th February 2017 on Associate Analytics & Security Analyst for III B.Tech CSE & IT students by Mr.P.Ashok, Program manager, Karvy Analytics ltd. & Mr.Manzoor Ali, Lead Associate Project, Sytech labs, Hyderabad

09-02-2017
Dyuthi-NSS unit of VBIT has organized Blood Donation camp in which 200 units of blood samples were collected
10-02-2017
Robotics club of VBIT has organized a training programme for I B.Tech students on their club activities and made the students to work on the same.

08-02-2017
An orientation programme for IOT Maker space, an incubation centre, was conducted on 8th & 9th February, 2017 for selected students of III B.Tech CSE, IT, ECE & EEE branches. This programme will be carried out throughout the semester which aims to facilitate industry-institute interaction and create industry-ready professionals. Mr. Pankaj Diwan, CEO of IOT Maker space attended this event.

 January 2017 Events:-
28-01-2017
Dept. of MBA has organized a guest lecture on "Online Financial Transactions-An insight into Cyber Security"by Mr.S.K.Benarjee, Vice-President-Finance, Polaris for Ist & IInd year MBA students.

26-01-2017
68th Republic day Celebrations were held at college campus. Dr.N.Goutham Rao, Chairman hoisted the national flag.
25-01-2017
IEEE-VBIT SB has conducted AVISHKAR-2k17 (Intra-Collegiate round) in which 132 teams participated. The final round was held on 26-01-2017 for the 15 teams short listed from the prelims.

22-01-2017
IEEE-VBIT, Women in Engineering Affinity group has organized Student and Teacher Research Programme (STAR) to create awareness on the importance of Educationto the students  at Sannihitha Rainbow home, Musheerabad, Hyderabad.

20-01-2017
IEEE- PES VBIT SB has organized Technical Gabfest. It is a great platform mainly focused on t "Emerging Trends in Science and Technology" through panel discussions by various keynote speakers on 20th & 21st January, 2017 . Various sessions and resource persons of this event are:
Session 1: A talk by Mr. PSV Kisshhan, CEO & Founder of H-BOTS PVT LTD
Session 2: A talk by Mr. Yashpal K Sihag, Senior Manager in Training & Development at CAP Foundation
Session 3: A Talk by A. Raju – Senior Scientist at DRDL On "Missile".
Session 4: A Talk by Ghanji Shyam Sundar – Junior Scientist at DRDL on "Telemetry"
Session 5: A Talk by Mr. Srikanth Srivastav – Junior Scientist at DRDL on "Missile system design and it application on Guidance and Control"

18-01-2017
Dept. of EEE has organized workshop on Embedded System design for IV B.Tech students in association with C-DAC, Hyderabad from 08-01-2017 to 23-02-2017

17-01-2017
Dept. of ECE in association with IEEE COMSOC VBIT SB has organized a 3 day Hands-on workshop on Image Processing using Matlab/simulink & FPGA from 17th to 19th January, 2017 in which 40 students were participated. The objective of this workshop is to focus on new trends, techniques, developing skills and innovative ideas of image processing. Ms.V.Azharthamma, VLSI designer & centre Head, MS VLSI Design center- Visvesvaraya Technological University, Belgum, Karnataka was the resource person for this event.

17-01-2017
Inauguration of new professional body named, "Society of Automotive Engineers" by Dept. of Mechanical Engineering.

12-01-2017
Dyuthi-NSS team of VBIT has organized mass awareness campaign in nearby villages of VBIT on Cashless Transactions.

11-01-2017
"Swayam"- Student forum of VBIT has celebrated National Youth Day on the occasion of birthday of Swamy Viviekananda in which essay and elocution competitions were conducted. 158 students of various departments participated in this event.

10-01-2017
IETE- VBIT SB has conducted a technical event named "Selfie with Circuit" in which students were focused on the basic knowledge of Electronic circuits to assemble in proper way in which 120 students were participated.

07-01-2017
Department of mechanical Engineering in association with Society of Automotive Engineers (SAE) club of VBIT has organized one day workshop on "Industrial Tribology & Vibrations" in which 142 participants from various institutions and industries have participated. Resource persons of this event are:
.S.Y.Veerabhadra Reddy, Scientist-E, Research Center Imarat (RCI), Hyderabad
K.Dargaiah, Bharat Heavy Electronics Ltd, Hyderabad.
T.G.Rajaswamy, Professor & HOD, Dept. of ME, VBIT

07-01-2017
CINE (Branch Association of CSE & IT Dept.) has organized a workshop on cloud computing by Mr.Aniruddh Kasturi, Senior Game Developer, Flixy Games for III CSE & IT Students.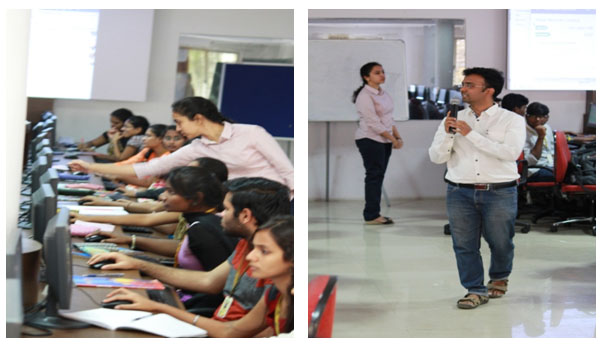 04-01-2017
Institute of Student Engineering (ISE), a new student club of VBIT has initiated its functioning by conducting a event named "My Belief" on 4th & 5th Jan 2017. It is a open stage competition in which students can express their views on technical & non-technical topics. 31 participants from various Engineering colleges of Hyderabad have participated. Mr.Vivek Bhargava, Executive Chairman of Wealth Bridge was the chief guest for this event.


December 2016 Events:-
30-12-2016
Stumagz-A start up venture of young professionals was launched at the institute.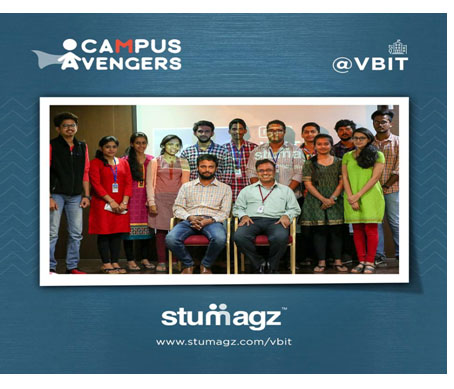 28-12-2016
Dyuthi-NSS team of VBIT has visited Ramakrishna Math, Domalaguda to attend training session of "Be Good-Do Good" campaign in association with Samskruthi Foundation.

23-12-2016
Street Cause unit of VBIT has released their News Letter (Volume-03 Issue-01).

23-12-2016
Dept. of Mechanical Engineering in association with TASK has hosted Faculty Development Program on 3D Printing in which faculty from various engineering colleges have attended.

22-12-2016
Dept. of Library & Information centre in association with IEEE-VBIT SB has organized state level workshop on "Utilization of Library Resources & Publishing in Reputed Journals" in which 40 faculty and librarians from various colleges of the state attended this event. The workshop was conducted as part of the decennial celebrations of IEEE-VBIT SB. Sessions of this workshop is:
How to Use Library Resources in Teaching and Learning Processes and Academic Research- by Dr. S.Sudarshan Rao, Former Principal, University College of Arts and Sciences, O.U
Authorship and How to Publish a Research Paper- by Dr.Atul Negi, Professor, School of Computer and Information Sciences, University of Hyderabad.
Utilization of IEEE Resources- by Mr. Dhanu Pattanashetti, IEEE Client Services, University Partnership Program Manager

19-12-2016
Institute has organized Inauguration program for participants under PMKVY (Pradhana Mantri Koushal Vikas Yojana)

17-12-2016
Institute has organized IEEE-VBIT SB Decennial celebrations in which 25 alumni have participated and shared their views for the present student branch.

17-12-2016
5 final year students from CSE&IT branches attended a Industry visit to "Deloitte" organized by Telangana Academy for Skill and Knowledge (TASK), Hyderabad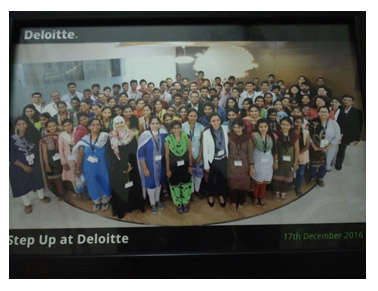 16-12-2016
VBIT in collaboration with Telangana Academy for Skill & Knowledge (TASK) has hosted Faculty Development Program on "Effective Entrepreneurship Mentoring" by Mr.Sudhir Choudhary, Soft skills trainer in which 10 faculty from various Engineering colleges have attended.

09-12-2016
Dept. of MBA has organized a guest lecture on Careers & Life Basics by Mr.Jagadeesh, Secretary, Vandemataram Youth Front for I & II MBA students.

01-12-2016
Prof.Aniruddha Deshpade, Former Executive Council member of NAAC has visited the college and interacted with faculty members regarding upcoming challenges in the field of technical education.

November 2016 Events:-
05-11-2016
Parent-Teacher meet for 1st B.Tech students was conducted in the college campus in which 150 parents attended. 
24-11-2016
Dept. of MBA has organized a guest lecture on "Management Practices of the Creative Organizations" by Mr.P.V.Ramana, Regional Manager, FDC Pharma for I & II MBA students.

October 2016 Events:-
18-10-2016
Dept. of MBA has organized Induction Program for 1st   year admitted students. A guest lecture on "The Role of MBA Students in Nation Building" was delivered by Mr.S.V.S.Lakshmi Narayana, Convenor, INTACH on this occasion.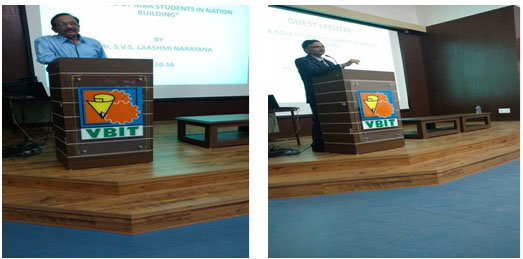 27-10-2016
 Ganith-The Mathematics club of VBIT has organized MAT'TECH Fest 16, an inter college Tech-cultural event on 27th & 28th October, 2016 in which 400 students from various colleges of Hyderabad have participated. Dr.M.A.Srinivas, HOD, Dept. of Mathematics, JNTUH was the chief guest for this event. Activities like Paper presentations, Museum of mathematics, chamber of secrets etc were conducted on these two days.


September 2016 Events:-
27-09-2016
Women in Engineering (WIE) Affinity group of IEEE-VBIT SB has organized "Art Beat" in which events like poster designing, poster making, Quilling, Clay art, video making were conducted. 105 students were from various colleges of Hyderabad were participated. Ms.Mrunalini Ex. Secretary, Women in Engineering, Hyderabad section was the chief guest for this event.

16-09-2016
Release of ELECVOICE magazine by ELECTROCKZ- Branch Association of EEE department (Volume-VI, Issue-I).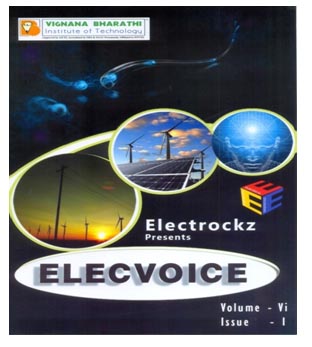 14-09-2016
Department of civil Engineering has organized Engineer's Day celebrations & Convocation for 2012-2016 passed out batch. Chief Guest of this event was Dr.P.G.Sastry, Director & Head, Learning & Head, Ramky group, Hyderabad.

10-09-2016
Central Hackathon under IoT was hosted by the institute on 10th & 11th Sep, 2016 in which 100 teams from various engineering colleges of Telangana were participated.Mr.Sujeev Nair, CEO, Telangana Academy for Skill & Knowledge (TASK) & Mr.Pankaj, CEO, IDEA labs were the chief guest for this event.

07-09-2016
IoT team of VBIT was invited to TS Hub at IIIT campus , Gachibowli to exhibit their application to Sri.K.Taraka Rama Rao, Honorable Minister of IT, Govt. of Telangana.

03-09-2016
Harith-Eco Club forum of VBIT has conducted "NIRVIGHNA" on the occasion of Ganesh Chaturthi in which events like Making of clay ganesh idols & its importance, awareness on using clay idols were conducted.

August 2016 Events:-
30-08-2016
Aashay-Film Club of VBIT has organized Documentary Film contest in which documentaries on road accidents, girl's education, alcoholism etc were screened. This contest was organized as a part of workshop on Documentary by Mr.Milind Bhanage that took place on on 11-07-2016.

27th August 2016:-
A 2 day workshop was conducted on ELECTRICAL SIMULATION USING MULTISIM.
31 Faculty from other colleges attended the workshop.
Faculty coordinator———— M.SHARANYA, Associate Prof
Resource persons :
Karthik Sharma, Application Manager, Ascentronics Pvt Ltd
Rizzu Hussain, Application engineer, Ascentronics Pvt Ltd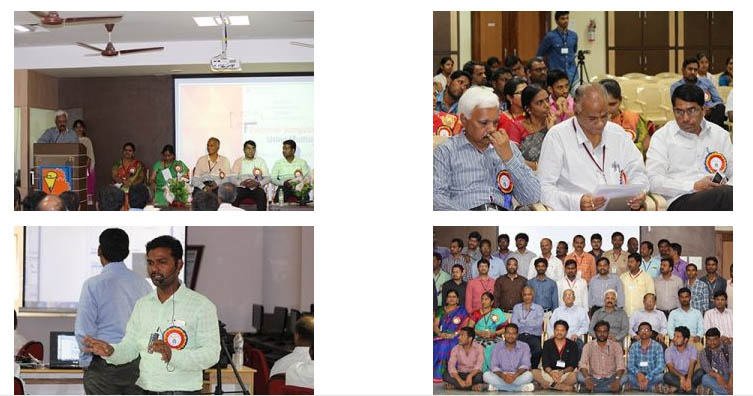 24-08-2016
Dept. of Civil Engineering has conducted a guest lecture on "Harbour Engineering" by Dr.P.Sridhar Raju, Associate Professor, Dept. of CE, BITS Pilani, Hyderabad campus.

20-08-2016
EVOLVE- A student forum of VBIT has organized a guest lecture on "Time Management". 200 students of various departments attended this lecture.
19-08-2016
Visit to Central Power Research Institute (CPRI) by EEE department students.

18-08-2016
A Two-day workshop on "ANDROID Application Development" was organized on 18-08-2016 and 19-08-2016 by Mr.Sreenadh Reddy, Director, Coign EDU & IT Services pvt Ltd.and Mr.Anwar, Technical Lead, Coign EDU & IT Services pvt Ltd.
A total of 110 students attended the sessions. All the III yr faculty members of CSE and IT have attended this event.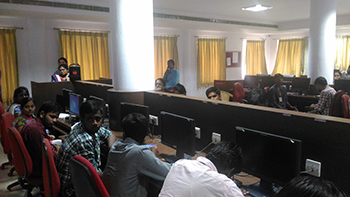 17-08-2016
Dept. of Civil Engineering has organized a visit to Indian Meteorological Department (IMD), Begumpet, Hyderabad for IIIrd year students.

15th August 2016- Independence Day Celebrations
70th Independence Day Celebrations were held on VBIT campus amidst patriotic fervour and zest. Chairman Dr. N. Gotham Rao, after hoisting the flag,  spoke about the need of sustaining the spirit of the freedom movement in order to protect the nation from various internal and external threats. Principal Dr. G. Amarendar Rao and Dean, Dr. JSN Murthy also delivered their messages urging one and all to contribute to the national progress in one way or the other.




09-08-2016
Department of MBA has conducted a guest lecture on "Matching You & Your Job" which is intended to improve the Employability skills of MBA I Year students by Dr.Raj Kumar, CEO, HR Footprints.

4th August 2016
B. Tech. Induction Programme was held on 4th August, 2016. About 400 students along with their parents attended the programme. Chairman,  Dr. N. Goutham Rao,  Secretary, Dr.  G.  Manohar Reddy,  Treasurer Dr. KKV Sarma spoke about the vision and objectives of the management and urged the students and their parents to make optimum use of the resources available at the college. Principal Dr.  G. Amarendar Rao and Vice Principal Dr.  Jayanth Kulkarni explained to the students the systems and practices followed to transform the students into all round professionals. Dr. JSN Murthy, Dean, Dr. Gopa Dutta, Director, R&D, Dr. Devendranath, Director, Academics, Dr. ChSLN Sridhar, HoD, H&S and Mr. Anil Kumar, TPO also spoke on the occasion.
03-08-2016
Power & Energy Society chapter of IEEE-VBIT SB has conducted "Power Colloquium 2K16"  in which guest lectures & interactive sessions were held which includes:
A talk by Mr.K.Gopala Krishna, Chair person, PES/PLS/IAS Joint chapter, IEEE Hyderabad section.
A talk by Mr.V.Akhil, CEO, Premier Engineering Cooperation.
A talk by Mr.Ch.Sankar rao, Founder & Director of Titan Energy systems.
A talk my Mr.Pavan Acharya, Executive Director & Board member at Adaapt Motors.

3rd August 2016
POWER COLLOQUIUM'16 (IEEE – VBIT SB)
The Power and Energy Society under IEEE – VBIT SB, has taken an initiative to create awareness about the concept of Entrepreneurship in the field Electrical Engineering and Optimal Allocation of Renewable Energy Resources as the theme of Power Colloquium'16 conducted on 3rd August 2016. It provided a good platform for the participants to interact with eminent speakers from various organizations. The event helped the student participants learn the basics of establishing a start up in Electrical Engineering Field.
114 students participated from various colleges in Hyderabad.

July 2016
29th July, 2016
3D – PRINTING (IEEE – VBIT SB)
The Computer Society chapter under IEEE – VBIT SB, took an initiative to spread awareness among students on '3D printing'. 3D printing, also known as additive manufacturing, turns digital 3D models into solid objects by building them up in layers. This workshop, which was conducted on 29th July, 2016, became a platform for the participants to learn the fundamental concepts of 3D printing with great enthusiasm.
85 students from different colleges turned up for the workshop.
Dept. of MBA has organized an industrial visit for MBA students to Association of Lady Entrepreneurs of Andhra Pradesh, Kukatpally, Hyderabad.

23rd July, 2016
'Electrokz', the Branch Association of EEE Department conducted a guest lecture on "Genetic Analysis Application in the Distribution System" by Dr. P. Ravi Babu, Head of the Department, EEE, Sree Nidhi Institute of Science & Technology. Dr. Ravi provided a brief explanation of how the genetic properties of a human being can be related to the distribution system. This session exposed the students as to how the feeders can be connected to get an effective output using Genetic Analysis.

23rd July. 2016
Mr. Ram Machiraju, Global Product Leader, Senior Director – JDA Software Ltd., delivered a guest lecture for both MBA I and MBA II year students on the topic "Product Management". The guest covered the areas like Leadership, Entrepreneurship, strategic Management, Product Economics etc. Dr. Gudur Amarendar Rao, Principal & Dr.J.S.N Murthy, Dean appreciated the efforts of the department. Dr. S V Ramana Singaraju, HoD in his valedictory speech stressed the importance of self motivation and hard-work in corporate life.

14th, 15th & 16th, July, 2016
A three-day motivational lectures programme was conducted covering all the II B. Tech. students in connection with the inauguaraiotn of a new club – 'SWAYAM'. The club is formed with an objective of holding matured and meaningful discussions & debates. The club is also expected to liasion between the college and the Rama Krihna Math for conducting various personality development programmes and motivational lectures for the students of the college. Swamy Bodhamayanada ji adorned the inaugural seesion on Day I and went on to deliver a beautifil inspirational lecture that set the tone for the rest of the days. Mr. K. Ravindranath, Accounts Officer in TSGENCO and a reputed motivational speaker took a seession on Day II. Addressing about 120 II B. Tech students, he appealed to them to be self-confident and pursue success with single-minded dedication. Mr. Raghu Dutt took the final session on Day III.




15th & 16th July, 2016
Swamedha – a two-day mamagement fest has been organised by the Department of MBA on 15th and 16th of this month.
for both MBA I & II year students. Business Quiz, Collage and Paper Presentation events were conducted on Day I and on Day II Mock Stock Exchange and Young Manager Events were conducted. Chief Guests Mr.Rajendra B Lodha delivered the key-note address during the inauguration ceremony While Mr.Narayana (HR Manager) from Jain Irrigation Ltd. handled the personal interview session in young manager event and also delivered his valuable address about the Career Management during valedictory ceremony. Mr.P Vishwanath, Associate Professor (SNIST) conducted Mock Stock Exchange event for MBA I & II students. Students participated enthusiastically and faculty were present for all the events.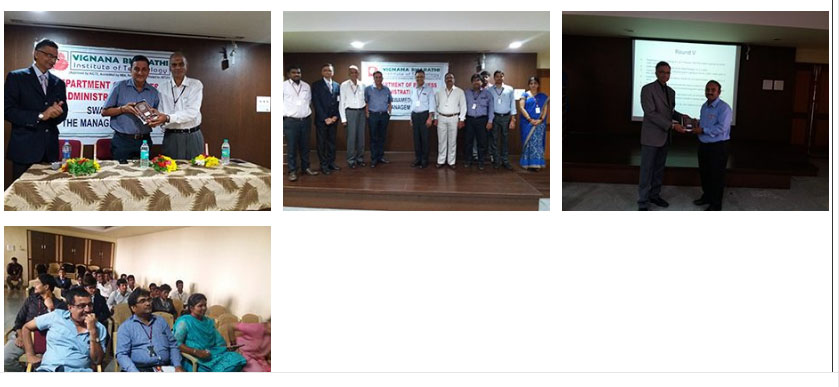 15th July, 2016
A massive tree plantation programme was held in VBIT in the backdrop of 'Haritha Harmam' initiative by the Governement of Telangana. Mr. Mahesh Muralidhar Bhagavath, Police Commisioner, Cyberabad, graced the occasion and delevered an inspiring talk about the importance of taking up tree plantation on a large scale and the role of educational institutions and the young students in making this programme successful.Eco-club the VBIT environment protection group and Dyuthi – the VBIT NSS wing have collaborated in organising this programme involoving entire II B.Tech. students.Chairman, Secretary, Principal, Vice Principal, all Directors, HoDs and several faculty members enthusiastically participated in the tree-plantation programme.



13-07-2016:-A guest lecture held on 13th July, 2016.
Guest Lecture on Role of Geology in Civil Engineering
By :Dr. MOHAMMED BURHANUDDIN,
Director of GSITI (Ret,), Senior Geologist, Technical Co-ordination Division, GSITI, Hyderabad.

11-07-2016
Principal, faculty and students of VBITparticipated in the large scale tree plantation programme held in the village of Aushapur, Ghatkesar mandal in Rangareddy (Dt) as part of the 'Haritha Haram' initiative by the Government of Telangana.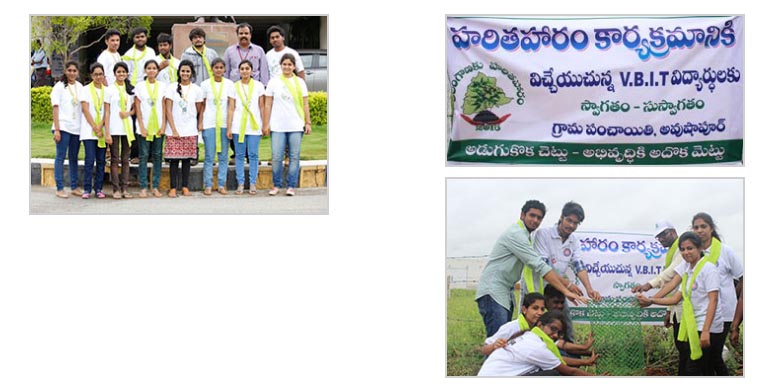 08-07-2016
Aashay, the VBIT Film Club, conducted a one-day workshop on 'Documentary Film Making' for the benefit of our young engineering students.Mr.Milind Bhanage, an internationally acclaimed documentary filmmaker, graced the occasion and shared his expertise with the budding filmmaking enthusiasts of the college. A total of 180 students participated in the workshop.

04-07-2016
The inaugural ceremony of the 15-day 'Train-the-Trainer Program' to deliver SAP-MM (Materials Management) Course title for the nominated faculty members of SAP collaborated colleges by TASK in association with SAP Student Academy and IPA Education Private Limited (SAP delivery partner) was held in the college. Mr. G. Bhaskar, Director, TASK Corporate Relations and Mr. Badri Narayana, CEO, IPA were the Chief Guests of the programme.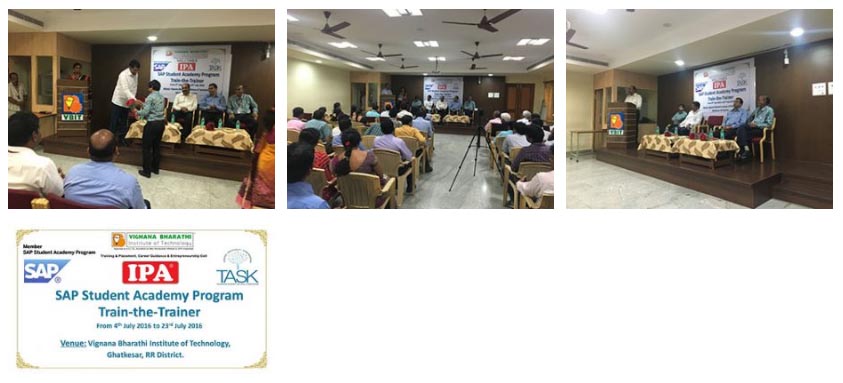 02-07-2016
IEEE-VBIT SB in Collaboration with IEEE Hyderabad Young Professionals Affinity Group hosted Student Transition & Elevation Partnership Program (STEP) in the first week of July. STEP is an event as part of their annual Plan to introduce the opportunities and benefits of IEEE membership during the onset of a career. This also includes Young Professionals Meetups all across IEEE Hyderabad Section.
The Guest Speakers of the day included –
1. Ms. Preeti Kovvali- Service Delivery Lead at Tech Mahindra
2. Mr. Sri Charan Lakkaraju- CEO for Right Process InfoTech Private Limited
3. Mr. Bhudeb Chakravarti- Founder President at Centre for Development of Excellence