Anusha Meenakshi of IV CSE(2011-15) has won first prize in MUSE2K14-singing competition hosted by Sri Mayukha Events at Bharatiya Vidya Bhavan Auditorium, Hyd on 13-09-2014. 16 final round particpants from various engineering colleges of Hyderabad have participated.
The students (Shahid Khan III CSE,S. Akhila ,A.N.V. Nirmala & B. Srujan of III ECE ) of Vignana Bharathi Institute of Technology ,Hyderabad have won first prize in PADARTH, an event conducted by the Metallurgical Department of IIT Mumbai on 2nd March 2014 .VBIT was selected as zonal center for conducting preliminary rounds across India during December,2013.Twenty six teams were selected across the country from various zones to participate in the finale held at the campus of IIT Mumbai.
The students have made a setup of different Eco friendly units catering to the need of rural population in India. They built a low cost water filter which recycles the waste water from the village.
The water filter consist of different layer of sponge , sand, activated charcoal and a ultra filtration membrane of 10 NM pore size which does not allow bacteria to pass through it .A low cost bio gas plant designed by the students promises to reduce the construction cost by 1/5th of normal bio gas plant by giving a coating of polyurethane with 6-7 % silica filler to a thickness of 200 micron to the interior of the bio gas plant. The coating has strong thermal stability to with stand high pressure.
As a part of their setup, they also built a single shaft mechanism to generate electricity from speed breaker to light up the street .They also exhibited a low cost u-v insecticide to kill mosquitoes and a low cost air cooler.
The students were awarded a cash prize worth Rs 15000.
sri rangarajan and sai ram of IV CSE participated in SRUJANA 13 conducted by ABVP and won 3rd prize in working model organized at MLRIT,Hyderabad
A team of 5 students of VBIT has been shortlisted to attend the Grand Culmination Convention on 2nd October, 2013 at New Delhi. The convention is organized by citizens for Accountable Governance (CAG), New Delhi. 1.Shahid Khan-III CSE 2.P.Charishma Reddy-III ECE 3.TVSR Prasad-III ECE 4.Akhila Sriram Setty-III ECE 5.Deepthi Gregory-III ECE
Mr. Ravi Kiran Nishtala, IV CSE won the first prize in student Photo Contest held as part of IEEE Global Humanitarian Technology Conference South Asia Satellite 2013 on 23rd and 24th Aug,2013 at Thiruvananthapuram


Mr.Shaid Khan has won the Best Technical Hack of Yahoo 2013,India.held at Hyderabad
 
Mr.Karthik Siddawaram of CSE (2007-11 BATCH) received the Larry K. Wilson Student Activities award. This award is given to one person in Asia – Pacific region for significant and consistent contributions to Student Activities. This award is given by IEEE at Region 10 Gold / Student / WIE Congress in Hyderabad.
Testimonial

Mr.Karthik Siddawaram of CSE (2007-11 BATCH) received the Richard E.Merwin International Scholarship award from IEEE Computer Society.

Sai Prasad & N. Ravi Kiran (II CSE) Won the first prize in Water Robotics Competition at Tech Fest conducted by IIT Hyderabad.
For Detials….click here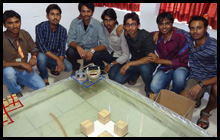 Parthasarathy along with telescope he developed. He has won many prizes in State and University level .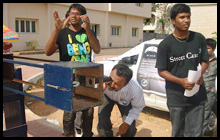 IEEE awards to Mr.S Bharath & Mr. Gyanendra(CSE IV)



Mr. Sai Prasanth & Ravi kiran II CSE has participated in Techno Events conducted at IIT KHARAGPUR & NIT Warangal and won 4th and 2nd position Respectively for more details
Mr. Karthik Siddavaram of IV CSE(2007-11) batch has won the award for outstanding leadership by International president of IEEE for the year 2010-11.