Vignana Bharathi Institute of Technology Events – 2011-2012 Academic Year
April – 2012
28th April, 2012
Prof.S.Satyanarana,VC,OU releasing the balloon while inaugurating the ISRO project in VBIT
2th & 13th April, 2012
VIBHA'12 COLLEGE ANNUAL DAY
Guests : G.Prabhakar,President,Institute of Engineers,India.
DilRaju,Movies Producer,
Bhargav,Nikitha-Maa music
Lovely-movie Team(Aaadi,Jaya,Saanvi,Chinmayi)


11th April, 2012
12thoject Exhibition cum Competition of final year students was conducted.A review of all the In house Projects was conducted by Mr.GLN Murthy,Senior Project Manager,Infosys No of Projects displayed:-41 No of Students Participated:-117

9th April, 2012
A Lecture on " Message of Swamy Vivekananda to students and youth" by Swamy Bodhamayanandaji,Director,Vivekananda Institute of Human Excellence. was organized by Dept.of H&S.


3rd April, 2012

Dr. Raj Kumar CEO, HR FOOT PRINTS along with his team member Ms.Sarada, Ex-Training In-charge of TCS have undertaken a one day work shop on personality development and career guidance. Various team based games, plays e.tc. It also contained Job Description round, Mock Interview. The students of the different electives of MBA and also different years of MCA have utilized the opportunity.


March – 2012
31st March, 2012
Mr. M.M.Sriram, Chairman, Industrial Committee, FAPCCI, Managing Director, Scarlet Industries Pvt. Ltd., & Samooha Industries, Hyderabad and the Management of VBIT on the occasion of the valediction of Value Added Programs for II-II and III-II from Training & Placement Cell. Book release (course material) was a part of the program for the Value Added Programs.


21st March, 2012
An Initiative was taken by MBA Department in encouraging the students to analyze the Union and Railway Budget and make a professional power point presentation to all the students. Heads of other departments also have attended. Teams from both 1st and 2nd years have been formed by voluntary mode and they have released a book with very good information.
17th March, 2012
III B.Tech, EEE students visited Kothagudem Thermal Power Station (K.T.P.S) located at Paloncha, Khamman District. Total 03 faculty and 40 students visited.
13th March, 2012
The co-ordinator of Eenadu wing Mr. Purshotam has enlightened the students of MBA on the various aspects of Right To Information Act. It was attended by both 1st and 2nd year students.
The programme was an interactive programme and all the students have made use of the same. Local Eenadu staff reporter Narsing also accompanied the co-ordinator. Chairman, principal, vice-principal and MBA faculty also have attended the programme.
8th March, 2012
Women's Day Celebrations at VBIT


7th March, 2012
A guest lecture delivered on "Synchronous Machines" by Sri. K.Bangaru Raju, H.O.D., EEE, T.K.R College of Engineering. Organised by department of EEE & EEE Branch Association



3rd March, 2012
A scientific talk by Mr. P.Shashank, Oracle Technical Consultant, Aps Associates & Mr. K.Bharadwaj, System Engineer, Bank of America on "Science In Ancient India" for 1st year students.


2nd & 3rd March, 2012
Samvikshan'12



A technical fest "Samvikshan '12" conducted by IEEE-SB. It includes contests
Project Expo
Paper & Poster presentations
Robotics
Movie making
Spot Sci-fi games.



2nd March, 2012
Intramural Cricket Tournament opened by Dr.J.S.N Murthy(principal)


February- 2012
28th Feb, 2012
National Science Day Celebrations.Chief guests:
Dr. Jaganatham-Scientist E2-CCMB
Dr. Hanumanth Prasad-Scientist E2-CCMB
18th Feb, 2012
120 students from II & III year CSE branch visited Infosys campus



18th Feb, 2012
Seminar on Nano Science and Technology. Chief guests:
Dr. T.L.Prakash-Director, CMET
Raghu C Reddy-Scientist – CMET
Dr. S.V.Manorama-Scientist-E-IICT
Dr. L.Srinivasa Rao-Rtd. Professor, O.U


4th Feb, 2012
An Industrial Tour was organised by Mechanical Branch to NTPC,Ramagundam.59 students visited .


4th Feb, 2012


A guest lecture delivered on "Emerging Trends in Information Technology" by Sri. M.P.Rama Rao, Group Product Manager, Oracle India Ltd. Organised by CSE & IT departments
3rd Feb, 2012

One day workshop on "Image Processing for Many Walks of Life", organised by dept. of ECE.Chief guest: Dr. K.M.M.Rao
1st Feb, 2012
Blood donation Camp was organised by Dyuthi-NSS unit at VBIT. 250 Students donated blood to Blood bank of Lions Club,Warangal.
1st Feb, 2012
A Guest lecture "How to Be Distinctly Different" the memorial Event of Prof.C.K Prahlad. by Dr.Sindhu,Associative Professor,JNTU ,Mr.S.V.S Lakshminarayana,Vice President(Marketing),Jupitar Bio sciences.


January- 2012


28th Jan, 2012
Mr. Chandra Sekhar Kammula, Sr. Vice President Polaris Software Lab Ltd., has visited the Campus and interacted with participants of HDFC-GEP @ IT program.
28th Jan, 2012
A guest lecture on "Boiler Technology" by Mr. J.S.Rao, General Manager, MPOT group, organised by Dept. of Mechanical Engineering
28th Jan, 2012
IEEE-WIE group has organised concluding session of STAR program. Chief guests: –
Rashmi Ambale, Quality Engineer, Nepier Solution Pvt. Ltd., WIE-Hyderabad
Vijayalatha, Chairperson, WIE-Hyderabad Section
26th Jan, 2012
Republic Day Celebrations and release of Stutalk issue


25th & 26th Jan, 2012
"AVISHKAR 2K12" – paper presentation competition for exclusively I B.Tech students was organised by IEEE-VBIT SB. Total 96 teams presented their paper under four categories:
Communication-20 groups
Maths & Miscellaneous-23 groups
Computing-27 groups
Power and Energy-26 groups


17th, 18th & 19th January, 2012
IEEE-VBIT SB has conducted two day computer society awareness program for 2nd & 3rd year B.Tech students.Total 215 students participated.
12th Jan, 2011
National Youth day on the eve of Birthday of Swamy Vivekananda, Viranchi cultural club has organised events like Rangoli and Kite flying competition.


6th Jan, 2011
A guest lecture delivered on "Awareness about Mechanical Industries", particularly about Water Jet and Laser Jet cutting by N.Rama Krishna, M.D., Pavitra Industries, Jeedimetla, Hyderabad.
10th Jan, 2011
"Swamedha" – A Two Days management fest has been held by MBA department on 10th & 11th Jan,2012.It was inaugurated by Mr.Raghuveer Beti,Chairman & Managing Director of Pegasus Formulations which is a 100 crore company and it's outsourcing job turnover is around 300 crores to Cipla,Pfizer etc.,.He emphasized that sky is the limit for MBA students and opined that he was extremely impressed with VBIT.The programme comprised of various events like Business Quiz,Ad making,Business Proposal,Case study analysis,Mock stock exchange in addition to Informal events like Carr oms,Chess,Rangoli etc.,
The programme ended with Young Manager Award for Group Discussion,Extempore and Stress Interviews were held.These 3 stages of selection were done by Mr.P V Ramana,Zonal Sales manager of Sandoz pharma along with Area manager Mr.Sanjeev.
The Chairman,Secretary,Principal,Vice-principal of VBIT have partcipated in the event.
MBA students of both first and second year have actively participated in the event and made it a grand success.

2nd Jan, 2011
A guest lecture on the topic "VEDIC MATHS" was organized by H&S Dept. Speaker – Dr. Kailash Viswakarma, Professor, Allahabad University, U.P
4th January, 2012
HDFC Graduate Employability Program (GEP@IT) orientation session Chief guests –
Ms. Renu Sud Karnad, M.D., HDFC
Mr. Debashish Ganguly, Sr.Vice President, Polaris
Mr. Rakesh Jain, C.E.O., HDFC-Education Initiative


December – 2011
24th DEC, 2011
A guest lecture delivered on "Stock Market Tips" for MBA students Mr.Ganesh Delivered tips on Stock Market Movement Mr. Sandeep Of Angel Broking Spoke About NSE Modules.



23rd DEC, 2011
VBIT – Governing Body meeting at 2.00pm in Board Room.



23rd & 24th DEC, 2011
SADHANA -Technical fest organised by MCA Dept.
10th DEC, 2011
VBIT Parents-Teachers meet.


08th DEC, 2011
A guest lecture on " How to Improve Concentration" by Swamy Chitrupananda- Director, Chinmaya Yuva Kendra, Noida,.was held on 3rd, December, Saturday, 2011. at1:40pm in Training & Placement hall which was attended by more than 150 students and was organised by MBA Dept. VBIT.
The following are gist of the speech:
Flow of thoughts in one direction as per as we wish is nothing but concentration.

Your habits influence your concentration (Talking, Sleeping and Eating) .

Start any work on time. Plan Early, Execute excellently and Results follow.

Spend 15 minutes with your mine about your goals.


November – 2011
28th Nov, 2011
Campus Placement drive by HCL Technologies.


24th Nov, 2011
A guest lecture on "Advances in Power Electronics and Adjustable Speed Drives" for B.Tech III & IV EEE students by Dr. B.Basavaraja, Vice-Principal and HOD (EEE), Gitam University.

19th Nov, 2011
IEEE-PES Chapter has organized two guest lectures on "Indian Standards in Engineering" by Mr. N.S.S.Prasad, President ISA (International Society of Automation) and by Sharad Karve, Cognizant Pvt. Ltd.

18th Nov, 2011
"DYUTHI", NSS Unit of VBIT Organized an Orientation programme for newly enrolled students.Chief guest – Mr. Shobit Mathur, TCS, Youth for Seva (NGO).

18th Nov, 2011
A guest lecture on "Medical Electronic Devices" by Mr. Vismay Buche, Biomedical Engineer, USA for II ECE students. The lecture was organized by ECE Branch Association.
17th Nov, 2011
Woman In Engineering (WIE) (one of the affinity groups of IEEE, VBIT) – STAR PROGRAM'S third session was organized for Govt. High School Jameelapet for 9th & 10th classes. Students were given a hands on experience on the basics of computer at VBIT .

17th Nov, 2011
A guest lecture organized by ECE Branch Association on "Antenna Wave Proportion" by Dr. B.L.Raju for III ECE students .

14th & 15th Nov, 2011
A Presentation on "Graduate Employability" by HDFC team.


October – 2011
29th Oct, 2011
A guest lecture on "Concept of Corporate Culture" for MBA & MCA students by Mr. S. Rohini Kumar, USA, Programme Manager-Sierra Atlantic-Hitachi
28th Oct, 2011
ECE Branch Association and ISKRA has organized a guest lecture on "Image and Speech Processing" by Dr. V. Surya Kanth, IIIT Hyderabad
21st Oct, 2011
Induction programme for MBA & MCA 2011-12 batch students
14th Oct, 2011
Mr. VENKATA RAMANA,Director ,HIMS addressed the Faculty Members on "Effectiveness in being on Excellent Faculty"


12th Oct, 2011
A guest lecture has been organized on 12-10-2011 in vbit seminar hall attended by more than 100 faculty.The speaker was Prof.Subramanyam ,Chairman Vivekananda Education Society Tamilnadu,Pro chancellor Vivekananda Yoga University,Karnataka.
In his descriptive lecture of one hour he gave some important practical tips to the faculty which were appreciated well by one and all.
Some of the important points of his speech-
Take the student along with you from the commencement of class to the end of the class.

Creation of a feel of comfort,composer etc to the student winning the confidence and faith of the student Develop Erudition

Take care of the cross sectional student from brilliant to below average student

Offer Emotional,Intellectual.Safety to the students

Never discourage any student and make them to think ambitiously

Be Ethically and morally sound.


September – 2011
09th Sep, 2011
A One Day Practicum on "Emerging Trends in English Language Teaching and Research", Organized by Dept. of Humanities & Sciences. 40 members were participated.
Resource Persons – Prof. A.Rama Krishna Rao, JNTU, Hyderabad, Prof. V.Prakasam, EFLU, O.U, Hyderabad, Prof. P.L.Visweswar Rao, O.U.


08th Sep, 2011
Faculty Development Programme on "Expert Guidelines in Teaching & Research Methods for Faculty of Engineering Mathematics", Organized by Dept. of Humanities & Sciences. 32 members were participated.
Resource Persons – Pof. V.V.Hara Gopal, Dept. of Statistics, O.U, Prof. Y.N.Reddy, HOD, Dept. of Mathematics, NIT, Warangal, Prof. B.Shankar, HOD, Dept. of Mathematics, O.U.

August – 2011
31st Aug, 2011
Dyuthi, NSS Unit of VBIT has put up the exhibition regarding 'Eco-friendly Ganesh'. 50 idols sold
25 th Aug, 2011
Induction programme for I B.Tech Students s (2011-12). 600 members (students & parents) attended this programme. Chief Guest :G SATEESH REDDY,director RCI,DRDO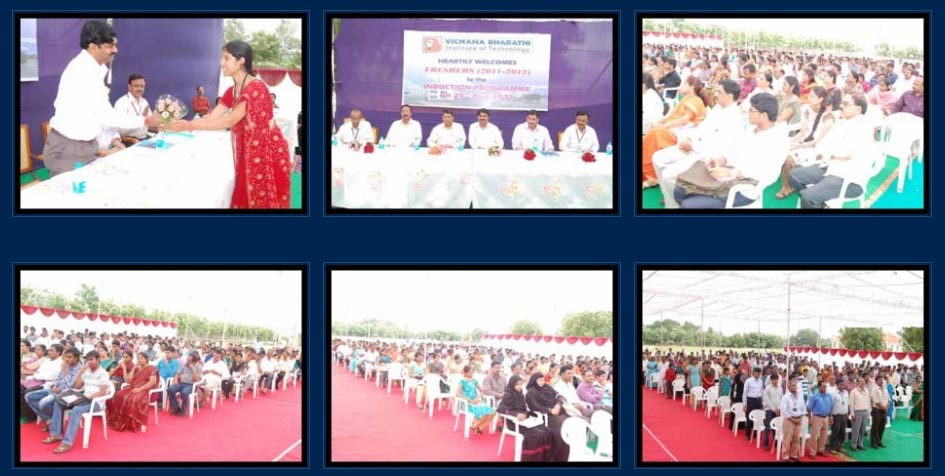 20 th Aug, 2011
The Inauguration program of Mechanical Branch Association was conducted on 20th Aug.2011.
Chief Guest-Mr.K.S.N Murthy.,Sr.Dy.General Manager,Technology,T&c,BHEL A Wind Mill Project unit was Inaugurated on the same day 20 students of ECE,EEE & Mech Engg.Dept. Participated in the project work under the guidance of Mr.K.B.V RAO,Dept.up Mechanical.


15th Aug, 2011
Street Cause -VBIT divisoon conducted various programmes at Sadhana Institute of Mentally changed Nacharam,Hyderabad.


15th Aug, 2011
Independence Day was celebrated in campus. Chairman Dr. N.Goutham Rao hoisted the flag. Viranchi- Arts forum of the college has given a performance consisting of patriotic songs & dances. Dyuthi -NSS unit of VBIT has organised the whole event


06th Aug, 2011
IEEE VBIT student branch,Dept of EEE has invited for the Inauguration of "Power & Energy Society student Chapter" & "Windmill Project" on 6th Aug 2011. Guests: Mr.R.Kannan,. General Manager(Retd.) BHEL R&D.Mr. T.R.Rajagopalan,DGM,NTPC ltd.Southern Region HQ,Secunderabad. Chairperson IEEE HYderabad PES/IA/PLES Joint chapter.
Mr Sampangi Apparao, Asst. Divisional Engineer,Information Systems APTRANSCO,Secretary IEEE Hyderabad PES/IAS/PLES Joint chapter, Mr. Mithin M Bhaskar,Lead Analyst-Energy & Utilties,Integrated Engineering Solutions,Mahindra Satyam,Nominated Member, IEEE PES/IAS/PELS Joint chapter.


04th Aug, 2011
Inauguration of MBLM(Mini Boundary Layer Mast) centre(set up by ISRO)at VBIT campus by Prof. D.N.REDDY, Vice Chancellor,JNTUH on 4th Aug 2011. Guest of Honour – Prof. B.M.REDDY, Research Associate NASA.
Special Invitee- Prof.Raghav Rao, Senior Scientist in Indian National Science Academy(INSA),Prof. Suhasini,Former Scientist, GSEC,NASA. Prof Lakshmi,Member, Research Advisory committee of Indian Institute of Geo magnetism and National S-T radar, committee member of DST.


July – 2011
16th July, 2011
Inaugural of COMPUTER SOCIETY CHAPTER(IEEE).
Technical talk on "The contemporary Computing discipline a graduate in Computing must know" by Chief Guest – Mr.Aditya Rao.
Technical talk on "The contemporary Computing discipline a graduate in Computing must know" by Chief Guest – Mr.Aditya Rao Technical talk on "Project Management " by Guest of honor-Mr.Rahul Dhronamraju.



16th July, 2011
Farewell (ADIEU) function for final year students at Seminar Hall – General Engineering Block by first year MBA students



4th July, 2011
Commencement of class work for first semester (II, III, IV) for the Academic Year 2011-12