Dr. G.Amarendar Rao
Principal 
Dr. G.Amarendar Rao, a dynamic and efficient teacher and administrator with an eye for detail and penchant for academic and personal discipline, is the Principal of the Institution taking it forward to higher levels of accomplishments and effectiveness.
Dr. Rao was born on 14-10-1961 in a remote village of Adilabad District.  After completing his primary and secondary education at the same place, he did his B.Tech. in Mechanical Engineering from KITS, Warangal, obtained his M.Tech. in Aerodynamics from the prestigious Birla Institute of Technology, Mesra, Ranchi and went to obtain his Ph.D. in Internal Combustion Engines from JNT University, Hyderabad.
He has put in a huge 28 years experience of teaching and administrative responsibilities. He has taught a wide range  subjects both at UG and PG levels of engineering in top rung institutions like KITS, Warangal, Gurunanak Engineering College apart from VBIT where he has worked previously as a professor & the HoD guiding the department and played an instrumental role in accomplishing NBA accreditation.
He published more than 30 technical papers in various Journals and Conferences at national and international levels. He is the reviewer of a number of peer reviewed journals.  He has guided a large number of UG and PG projects.  His areas of research and interest include IC Engines, Heat Transfer and Microscopic Thermodynamics. Presently, 5 research scholars are working for their PhDs under his able guidance.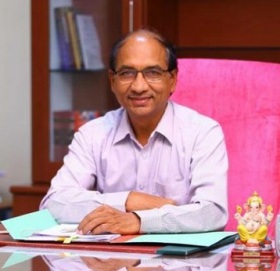 Sri G.Janardhan Rao
Finance Officer & Public Information Officer
JNTUH Nominee
Finance Officer Sri G. Janardhan Rao Public Information Officer Custodian of all finances of the University, sign all cheques for payment and exercise, with respect to the employees working in the University's office, powers of drawing, disbursing and collection of moneys under relevant statutes and regulations. Ensure that the accounts of the University including its constituent units are properly kept and audited.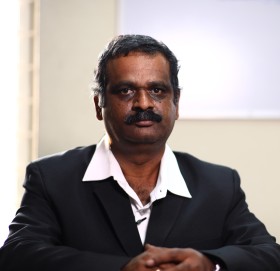 Dr. S.Hari Krishna
Finance Officer
Dr. S Hari Krishna did his B.Com from Osmania University, M.B.A in Financial Management and Marketing Management from Andhra University, L.L.B from Osmania University and Ph.D from Acharya Nagarjuna University.
He Joined the Department of Business Management as an Assistant Professor in 2006. Presently he is Associate Professor and Finance Officer, VBIT, Hyderabad. He attended many workshops, and National Conferences. He contributed six papers in national journals and presented four papers in the conferences. He guides M.B.A students in their academic dissertation work. He completed 10 NPTEL courses conducted by NPTEL Swayam.
He is life member in Hyderabad Management Association (HMA), Life Member in Indian Commerce Association (ICA), and Life Member in Indian Society for Training and Development (ISTD).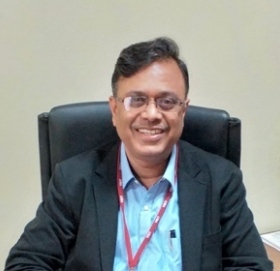 Dr. Jayant Kulkarni
Professor of Physics & Director IQAC
Dr. Jayant Kulkarni is passionate teacher and an excellent motivator. He completed his masters and in Physics from Pune University and Doctorate in Bio- Physics from Jawaharlal Nehru Technological University, Hyderabad. He has presented his research work at International Conference on Bio Medical Engineering held at Austria during 2007 and published 10 research papers in National and International journals.
He is associated with VBIT from last 13 years as Professor in Physics and Director, Internal Quality Assurance Cell (IQAC).
His deep understanding of teaching learning process enabled him to design and execute innovative student centric education process rather than examination oriented process in VBIT. Over past few years he played a key role in wholesome and excellent growth of the institute. Today this institute is uniquely qualified by its student-centric activities and by the various support programmes it promotes to inculcate leadership and communication skills among its students. Dr Kulkarni's contribution is significant in this endeavour.
Under the leadership of Dr. Kulkarni and in association with Vidyarthi Seva Samithi, Hyderabad a team of students and young teachers has been consistently organizing a state level technical symposium, 'Srujana', for past 15 years. This platform brings together budding engineers from various colleges and industrialists. This event provides a unique opportunity to students to exhibit their skills and talent and nurtures their entrepreneurship skills. Srujana, the brainchild of Dr. Kulkarni, is a widely renowned and appreciated technical event in the states of Andhra Pradesh and Telangana.
Dr. Kulkarni has taken up and overseen a number of excellent initiatives at VBIT such as establishment of an R&D Centre and the Student Activity Center containing 22 activity forums. He has provided constant encouragement to students toward improvement in technical skills, through professional societies like IEEE and IETE. Thanks to his vision and constant motivation, IEEE student branch of VBIT has won almost all National and International awards in last 13 years.
As a chief coordinator of accreditation process, he led the team of about 200 teachers and enabled the Institute to get accreditation from National Board of Accreditation (NBA) and National Assessment and Accreditation Council (NAAC).
Keen interest in literature and in cultural activities is another facet of Dr Jayant Kulkarni's personality. He is an orator par excellence and a powerful communicator. A science based TV serial, Vignan Vishwa (world of science), scripted by him was telecast by a leading regional television channel and was well appreciated by students and youth. He writes in newspapers and magazines on various social and educational issues. To promote a scientific temperament in society, he delivers many lectures and organises creative programmes through various forums and organisations. His close association with various sections of society and his fieldwork in rural areas has helped him gain in-depth understanding of the current social and educational issues in the country.