A perfect team of three young and dynamic people, who are highly qualified, founded Vignana Bharati Institute of Technology in 2004
The visionary founders
Dr N. Goutham Rao, Dr G. Manohar Reddy and Dr K.K.V. Sharma with their missionary zeal have successfully transformed VBIT into a model Technical Institution.
The meticulous planning and great care taken by the management to impart high quality education and the concern for the welfare of every student, have impressed the Osmania University authorities to select HRD College as a Member of The Council of Affiliated Colleges.
This and the 2500 and odd student enrolment and over 260 members of the staff list stand testimony to the efficient manner in which the management has been running the Institute.
The management aims to make the college grow into an ideal center of excellence and develop it to the level of a mini-University.
Educational systems change according to the current and future needs of the society. The intellectuals of the society have to study the societal needs, research trends, technological inventions, basic intellectual levels of the society etc. on a continuous basis to identify the dynamics or the variables of the society while keeping the backbone in the place and to work for development of the society for the future. Some of these actions are determined taking the global system in view as the physical boundaries are not the limitations for the development.
A good teacher can change even the bad student as per our ancient saying. Keeping this in view, a few professors and researchers from Osmania University joined hands to inspire educational institutes to contribute to the societal development.
After starting a couple of Arts & Science institutions and acquiring the skills to handle the dynamics related to running an institute and as an addendum to their research and teaching strengths, the team concentrated on serving the society through engineering education too resulting in the establishment of VBIT.
As the engineering education provides the students the necessary strengths to build the infrastructure, the team has established enough links with the industries, research organizations, and academic institutions to lead V.B.I.T to realize their vision.
Therefore the system at VBIT aims to provide lab oriented education in engineering, to enable the students acquire the necessary skills so that they can work directly at the industry anywhere on the globe. VBIT is also working on this, on a continuous basis for the continued improvements every semester. But this is a demanding task as updating the faculty to such skills, retaining such faculty for longer periods with the constraints fixed by the political system of the nation. Still, successfully overcoming these challenges, VBIT is forging ahead with improvements every year to achieve this mission.
Chairman
Dr N. Goutham Rao
Chairman -VBIT
Dr N. Goutham Rao, with a Doctorate in Sociology is a man of many laurels. He is a towering intellectual, a thinker and a doer as well. A person to leave no work unfinished, he has successfully completed many projects launched by Osmania University under UGC's special Assistance Programme. A right blend of tradition and modernity is reflected in Dr Rao which only undermines his ability to be accessible to rural and urban students and teachers as well.
Dr Rao is a disciplinarian who manages the nuances of administration and finances adeptly. Dr. Rao has been actively associated with a number of academic, cultural and social organizations. He is a life member of Indian Sociology Society, New Delhi, American Studies Research Center, Hyderabad and Osmania Graduates Association.
Secretary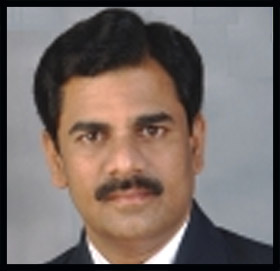 Dr G. Manohar Reddy
Secreatry – VBIT
Dr G. Manohar Reddy, who hails from a village in Nalgonda district, is a livewire adding youthful dynamism and vibrancy to Management Committee. Dr. Reddy has a creditable academic record right from his school days. A gold medalist in M.Sc Chemistry in the year 1989, he takes time to teach Chemistry and be with the students.
Dr. Reddy was an active participant in student organization activities and hence understands the needs of students very well. Social service is another area where Dr. Reddy evinces keen interest. He is associated with many service organizations in Hyderabad and in his native district Nalgonda.
He is a life member of many educational institutions and was elected as the president of Federation of Engineering Colleges Management, Andhra Pradesh.
Treasurer
Dr K.K.V. Sharma 
Treasurer – VBIT
Dr K.K.V. Sharma, who was born into a family of Sanskrit and Telugu scholars, is a pleasant person who is dear to students, staff and management. A spiritually inclined man, he is a strict disciplinarian.
A Doctorate in Telugu from Bangalore University and Masters from Osmania University have not made him any less down to earth. He has always remained humble and unpretentious. Dr. Sharma is a prolific writer in Telugu and Sanskrit besides being a very good speaker in Telugu and Hindi.