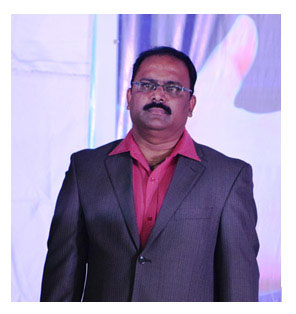 Dr. Ch.S.L.N Sridhar
Director, Student Affairs & Vice Principal
M.Sc., M.Phil., Ph.D
Dr. Ch.S.L.N Sridhar, known for his academic excellence, did his M.Sc. in Physics with a gold medal from Andhra University and M.Phil. with distinction in "Magetic Materials and Thin Films" from Hyderabad Central University. He has completed his Ph.D. in the area of Nano Materials from Andhra University.
He has six international publications in SCI journals to his credit. He is presently carrying out a UGC funded Minor Research Project in the institute. He is also guiding two research scholars for their Ph.D.s.
He has put in over 20 years of teaching and research experience out of which 15 years in VBIT alone. He has held various positions in the institute like 'Incharge of Examinations and Academics', 'Chairman of Library Advisory Committee' etc. Presently he is also heading the Department of H&S.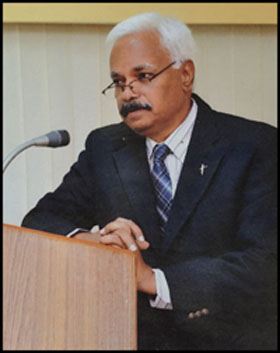 Dr. D. Devendranath
Director, Academics
B.E., M.E., Ph.D., FIE, MIEEE
Dr. D. Devendranath, a vastly experienced industry professional with a huge exposure to various emerging and cutting-edge technologies. As the Director, Academics, he is expected to ensure the academic discipline of the institution. He is also responsible for providing overall leadership, direction, coordination and assessment of the academic activities of both the faculty members and the students of different departments leading to meaningful and quality paper publications, paper presentations and technical projects laced with R&D.
He obtained his Bachelors in Engineering in 1978 from Osmania University, Masters from IISc., Bangalore. Did his Ph.D from Osmania University in the 2003. He got associated with the Industry for a significant period of time and worked on a research project in Queensland University, Australia. He joined Central Power Research Corporation (CPRI), Bangalore in 1986 and rose to the position of Additional Director and Unit Head at its Hyderabad center. He received advanced training in RIV and Corona related aspects of UHV Transmission Systems in CESI, Milan, Italy. He worked for several projects and presented & published around 65 papers in National & International Conferences & Journals including IEEE and IEE peer reviewed journals.
His notable accomplishments, apart from development and commissioning an Ultra High Voltage (UHV) Pollution Laboratory at CPRI, Hyderabad, include presentations at International Symposium on High Voltage Engineering (ISH), held in London and CIGRE (Colloquium) held in Switzerland. He also visited Lightning Research Laboratory, Shanghai, China, for witnessing quality assurance evaluation on Lightning Rods of different materials and M/s. High Volt Laboratories, Germany, for witnessing Factory Acceptance Tests on 1200 kV, 200 mA DC generator; he is responsible for coordinating commissioning it as well. His areas of interest are Radio Noise, Lightning Phenomena, Pollution Flashover of different types of insulators in Power Systems etc. He is also a Fellow, Institution of Engineers (India) and Member, IEEE (USA).

Dr. Gopa Dutta
Director R & D
M.Sc, Ph.D.
Dr. Gopa Dutta completed her Ph.D in the year 1983 on study of Ionosphere. She has more than 35 years teaching and 25 years research experience. She worked as a visiting Professor in Research Institute for Sustainable Humanosphere (RISH) of Kyoto University, Japan for a period of 6 months (January 2007 to June, 2007).
She has attended International conferences in Hong Kong, Japan, USA, Italy, Canada, Germany, New Zealand and presented papers. She has 39 publications in Science Citation Index (SCI) and SCOPUS journals. She has executed 10 major National Projects funded by ISRO, DST and 1 minor project by UGC, Govt. of India. She has produced 7 Ph.Ds and 3 M.Phils. Two more Ph.D scholars are working under her supervision.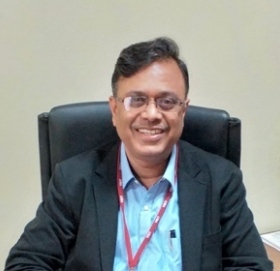 Dr. Jayant Kulkarni
Director IQAC
M.Sc., M.Phil., Ph.D
Dr. Jayant Kulkarni is passionate teacher and an excellent motivator. He completed his masters and in Physics from Pune University and Doctorate in Bio- Physics from Jawaharlal Nehru Technological University, Hyderabad. He has presented his research work at International Conference on Bio Medical Engineering held at Austria during 2007 and published 10 research papers in National and International journals.
Read More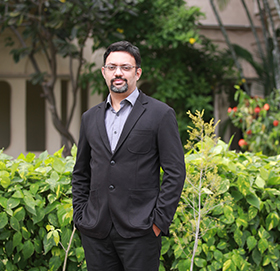 G. Anil Kumar
Director, IIIC
B.E., M.S.
Did his Masters (M.S.) in Computer Sciences from the University of N. Virginia U.S.A. Proficient in Databases and Certified from ORACLE University as a Database Administrator with OCP certification. Did his Bachelors of Engineering (B.E.) from Anna University with Electronics and Communication Engineering as major. He Started his career as a Corporate Trainer for IT industry in the USA teaching ORACLE databases. Presently he is working as a Training & Placement Officer and as an Associate Professor for the Dept. of ECE also guiding students in their career planning.
He has a strong passion for designing, creating and implementing new ideas for the benefit of the students community and also exploring new technologies and trends in the field of engineering. He also has a genuine concern for students and hence tries to constantly strive for improving their awareness about career enhancement and job opportunities.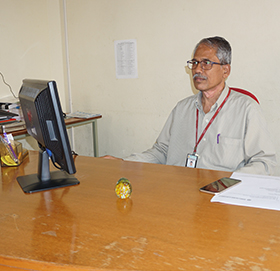 Dr B Brahma Reddy
Controller of Examinations
M.Tech., Ph.D
Dr. B. Brahma Reddy did B.Tech from JNTU, Anathapur and M.Tech from IIT, Madras. He did PGDBA for Podicherry University and PhD from JNTUH.
He has worked for ITI Ltd, Bangalore, National Informatics Centre, New Delhi, DishneDSL, Chennai, Reliance Infocomm, Mumbai. He has industry experience of 25 years and past 14 years he is in teaching field. He is working for VBIT since 2011. HOD(ECE), Dir(ES) between 2011 & 2018. Currently Prof and CoE.
He has worked on several innovative projects like Bit-slice processor, SPC & ILT telephone Exchange development, NICNET, Internet services for Govt organizations, Cyber security for Submarine Cable Landing Station, Gateways for International Connectivity, DishnetDSL, Dishnet Wireless and completed successfully. He has published 30 papers in National and International journals. He is Life Fellow member in IETE. He was qualified IES in 1981. He was a member of several committees such as SACFA, Indo_Israel Technical committees. He was also consultant to UNESCO on RINSCA project. He was co-convener to CARCAN-2012 and convener to CashTech-2017 conferences.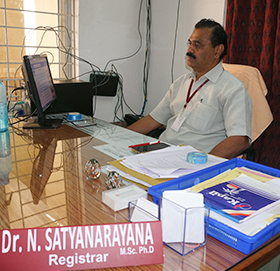 Dr. N.Satyanaraya
Registrar
M.Sc., Ph.D
He Completed his M.Sc. (Physics) from OSMANIA UNIVERSITY, Hyderabad with Gold Medal in the year 1983. He has been selected for Bhabha Atomic Research Centre (BARC) Training School in the year 1984 and successfully completed the training in 1985 then posted to different Units of Department of Atomic Energy all over India. During his posting at AMD, Hyderabad he has worked in different fields like Neutron Activation Analysis (NAA), Energy Dispersive X-ray Fluorescence (EDXRF), Delayed Fission Neutron (DFN), Photo Neutron Method and Low Energy Gamma ray Spectrometer(LEGS) also developed nondestructive techniques in NAA for the analysis of Minerals/ REE concentrates.
He was an active member of International Geostandards programme and International Geological Correlation Projects, actively involved in certification and standardization of number of National and International Reference Materials published in Geostandard News Letter, an International Journal.
Later at BARC, Visakhapatnam he has worked in Accelerator and Pulse Power Division. Since then he is actively involved in the generation and applications of High Power Microwaves (HPM) and Flash X-ray Radiography (FXR) using pulse power systems.
He is the receiptant of number awards such as Minerals Award, IGCP awards and Department of Atomic Energy's Group Achievement Award of the year 2012& 2013. He is having more than 30 publications in International/National Journals and Seminars/conferences.
Presently he is working as Registrar and Professor in Physics after superannuation from the Department of Atomic Energy/Bhabha Atomic Research Centre and having strong passion for the Research and Developmental activities in Science and Technology by active involvement of the students.