Vignana Bharathi Institute of Technology Events – 2012-2013 Academic Year
May 2013
11-05-2013
Vignana Bharathi Institute of Technology, Ghatkesar and Centre for Materials for Electronics Technology, Hyderabad have signed a memorandum of understanding to extend mutual cooperation in academic and research activities. This joint endeavour will cover the departments of Electronics and Communication Engineering, Electrical and Electronics Engineering, Mechanical Engineering, Physics and Chemistry.
10-05-2013
A guest lecture was conducted by eminent scientist Dr. D Pallam Raju, Chairman. Space and Atmospheric Sciences(SPA-Sc) of Physical Research Laboratory, Ahmedabad, Gujarat on the importance Atmospheric Sciences.
April 2013
29-04-2013
IEEE-VBIT SB received an International "Darrel Chong Student Activity Award " for the year 2011-12
Award
9-04-2013
Benny Dayal with AR Rahman,s Band at VBIT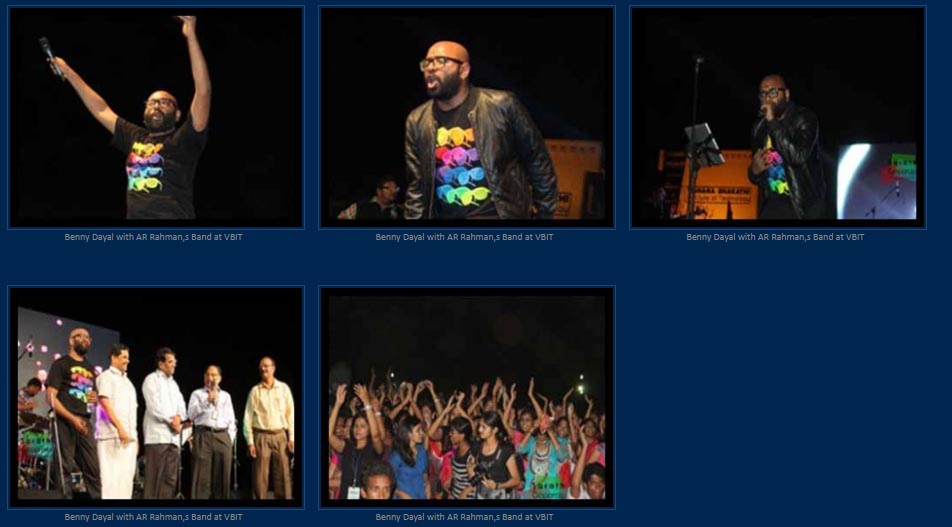 9-04-2013
AWARD FOR PUBLISHING BOOK BY DR. P. KOUSALYA"Probability, Statistics and Random Process "
The chief Guest for the day (9th April 2013)Prof. N.V.Ramana Rao, Registrar , JNTUH has released a book titled "Probability, Statistics and Random Process "(Publishers: Pearson Education, Chennai 2013) authored by Dr.P.Kousalya , HOD, H&S, VBIT and she was awarded with a small memento on this occasion.
08-04-2013
XYLYX'13 is a national level technical fest organized by IEEE-VBIT student Branch. Various events were held under each department such as Paper presentation, Poster presentation, and Project expo. We have also made an arrangement for Sci-fi spot games to inspire the scientific outlook.
IEEE-VBIT SB has received many awards for its outstanding contribution to science and technology since 5 years; this year nearly 1000 students from all over the country arrived for XYLYX'13. XYLYX'13 provided an excellent platform for the young minds of different colleges to come together and socialize with their colleagues wherein they can share their ideas and views and gain good knowledge.

No. of Participants: 300 & Report

Paper Presentation: 140

Poster Presentation: 30

Project expo: 40

LAN Gaming: 20

Circuit Designing: 15

Designing: 10

CODEX: 15

Case Study: 10

Robotics: 20 Teams
March 2013
14-03-2013
A visit of "Vivekananda Ratham" organised by Ramkrishna Math, Hyderabad to the college campus.The visit was a part of 150th Birth Anniversary Celebrations of Swamy Vivekananda.

08-03-2013
INTERNATIONAL WOMEN'S DAY'13 WITH WIE COLLOQUIUM
WIE AG, IEEE- VBIT SB, celebrated the spirit and essence of womanhood through 'International Women's Day' on March 8th and 9th. The members of AG organized a colloquium under WIE AG, IEEE- VBIT SB, which is a two-day event .It focused on empowering the girls technically in all aspects. Apart from the lectures in the workshop the members also conducted events which was full-filled and eductive.
06-03-2013
Department of CSE organized a one day workshop on Implementation of Internet Security in Java by Prof .Radha Krishna of Osmania University. A total of 95 students attended the workshop.

06-03-2013
A Guest Lecture was organized by EEE Department on "Overview of High Voltage DC Transmission" by Dr. S. Kamakshaiah, Retd.Professor of JNTU, Kakinada and visiting Professor of Vignan Institute of Technology & Science, Desmukh, Hyderabad. The lecture was delivered to the III year & IV Year EEE students

05-03-2013
A Guest Lecture was organized by EEE Department on "Extra High Voltage AC Transmission" by Assoc. Professor, R.Suresh Babu, JBIET, Hyderabad. The lecture was delivered to the IV year EEE and M.Tech (EPS) students.

01-03-2013
Dept. of Mechanical Engineering organized a two-day technical festival "Yantrika'13".
Chief Guest (Inauguration) Dr. Sudheer PremKumar, HOD (Dept. of ME), JNTUH
Chief Guest (Valedictory) Mr. E.V.Rao, Additional G.M (BHEL)
Events Conducted: Technical Paper Presentation, Robotics, Design Expo, Poster Presentation, Technical Quiz.

February 2013
28-02-2013
National Science Day was celebrated in the campus.
Chief guests & speakers: Dr. A.K.Bhatnagar, Former V.C., HCU
Dr. Dinesh Kumar, Dy. Director, NIN
List of VBIT faculty felicitated on National Science Day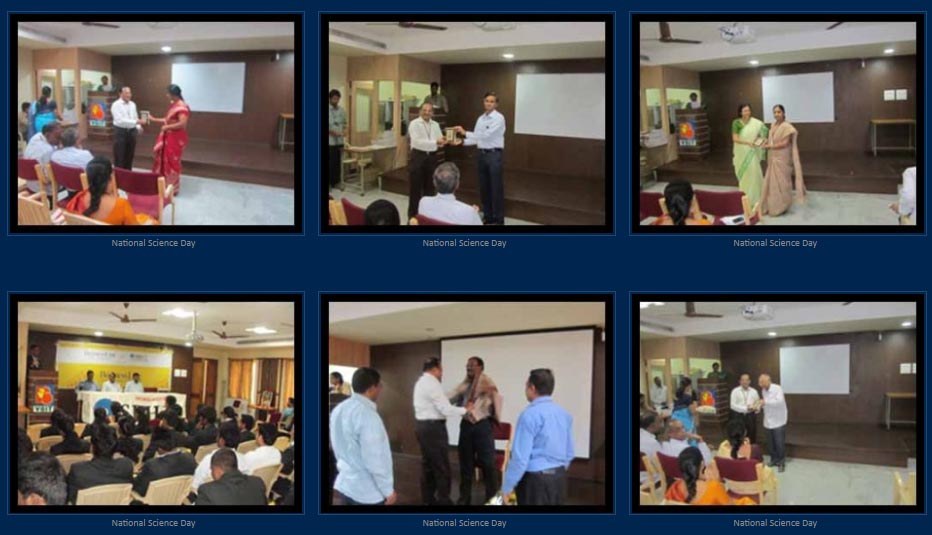 28-02-2013
GPS Receiver is installed in the Department of ECE. This is a part as collaborative study with National Atmospheric Research Laboratory (NARI) Gadanki, Tirupathi.
28-02-2013
ECO club has organized various events on the eve of National Science Day.
Poster making competition.
Best from waste.
26-02-2013
Management Fest "SWAMEDHA -2013" was successfully organized by MBA Department. It was a two-day Fest. The Events conducted –
SPORTS

BUSINESS QUIZ

LEADER WITH IN YOU

AD MAKING

MOCK STOCK EXCHANGE

BUSINESS PPROPOSAL

PAPER PRESENTATION

YOUNG MANAGER
25-02-2013
Second round (Inter College) of AVISHKAR-13 was conducted in the campus. No. of teams participated-22.
Chief Guest: Dr. Subhashchandra, Principal, HMIT, Hyderabad.
23-02-2013
A Guest Lecture on International Business was organized by MBA Dept.
Mr.K.S.Benarjee, Assistant Vice-president Polaris paid a visit to the campus and addressed the students of both first and second year of MBA. This talk was followed by lively question and answer session.


18 to 23-02-2013
Dept. of ECE conducted an industrial tour (III ECE) to the VSSC, Trivandrum. No. of participants: 60 faculty: 04.
22 & 23-02-2013
10 members of PES, IEEE-SB received a special award for extending volunteer services to IEEE|IAS|PELS, Hyderabad Section 2012-13.
Sikta Suchismita – IV EEE
Vishal Goud – IV EEE
Shubhangee Ojha – IV EEE
Akash Singh – IV EEE
Aditya Rayarapu – IV CSE-A
Lokesh Kumar – III ECE-A
Abhinav Saxena – IV CSE-A
M.Mounika – III EEE
U.Brahmendra – III EEE
Aravind Babu – III EEE

16-02-2013
The Department of CSE&IT under CINE Branch association organized a workshop on struts framework on 16th February 2013 for the IV year CSE and IT students. The trainer for the workshop was Mr. Mantha Pavan Kumar, Software Engineer, Java, Sparity Soft Technologies. A total of 25 students and 5 faculty members attended the workshop.
Number of Participants: 30

16-02-2013
The Department of CSE&IT under CINE Branch association organized a Guest Lecture on "ENTERPRISE DATA INTEGRATION & ETL PRODUCTS" by Mr.Rajesh Bandaru. President, CEO, BeanInfo INC.,Newyork on 16th February 2013 . A total of 150 students and 10 faculty members attended the Lecture.
15-02-2013
Legal Literacy Mission, II Metropolitan Court, Cyberabad organized an Awareness Programme on various aspects of Law entitled "Ignorance of Law is not an Excuse" . This Programme was presided over by Magistrate D. Durga Prasad, II Metropolitan Court, Cyberabad. He was compained by his team of advocate members. A total of 150 students attended the Programme
Advocate Members:
Mr. Subash Chandra Bose,

Ms. Rajitha.

Ms. Rani

Mr. N Satyanaryana Reddy

Ms. Sumanjali

Ms. Lakshmi
A total of 150 students attended the Programme