Vignana Bharathi Institute of Technology Events – 2015-2016 Academic Year
April 2016
27-04-2016
Visit by Dr.S.S.Mantha, Former Chairman of AICTE to the institute.

21st  April 2016
A team International Youth Fellowship, a South Korean NGO, working for the youth empowerment through various global innovative and dynamic programmes, conducted a seminar on 21st April, 2016 for all the faculty members on "Mind Education". Dr. Sam Gwon , Regional Director of IYF North Eastern Wing, delivered a highly motivating lecture on the necessity of systematic training and how young students can be inspired and motivated to achieve greater goals through it. A team of young and cheerful Korean students performed some lively and entertaining traditional dance numbers.
Chairman Dr. N. Goutham Rao, Principal Dr. Amarendre Rao, all the Directors and Heads of the Department also took part in the programme while Mr. Anil Kumar, TPO and Mr. DKM Sharma, Associate Professor of English took care of the organization of the programme.

13-04-2016
Department of EEE has released "ELECVOICE"-Department magazine (Volume-6 & Issue-2)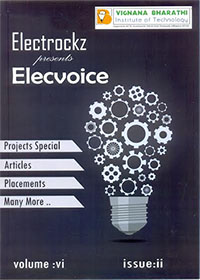 11th, 12th & 13th  April 2016
VIBHA is an annual technical and cultural fest conducted in VIGNANA BHARATHI INSTITUTE OF TECHNOLOGY, Ghatkesar, to facilitate the students to showcase their talent and innovation. The mega annual event of VBIT, VIBHA -16 is held this year for three days i.e., 11th, 12th and 13th of April 2016.
Aakar, the annual project expo of VBIT was conducted on Day I. Aakar-2k16 witnessed about 100 innovative projects and working models enthusiastically exhibited by B.Tech. final year students and a handpicked I, II, III B.Tech. and MBA students. Bharani K Aroll, Vice President of Butler America Inc. and President of Cyberabad Security Council, graced the inaugural of the event as the Chief Guest and interacted with the students and provided critical insights into some of the interesting projects and working models. He urged the students to be socially conscious and strive to resolve the common social and economic issues with the technical prowess they have. Dr. S.V. Ramana, Head, Department of Management and Mr. Sai Prasad Reddy, Associate Professor, EEE were the Coordinators of the event.
Day II and III were vibrant with all the students and the staff members turning up in ethnic wear. All the students made merry by indulging in delicious food on offer in a large number of stalls arranged and by watching several music and dance programmes performed by the shortlisted student groups. These two days turned out to be all fun and frolic to the students and faculty alike as a host of cultural programmes were performed. Dandiya Night, several foot stomping music and dance numbers and highly entertaining programs were performed. DJ Night by Bollywood DJ Lemon, a concert by Bombay Rockers group and a performance by the 'Jabardasth' team electrified the atmosphere.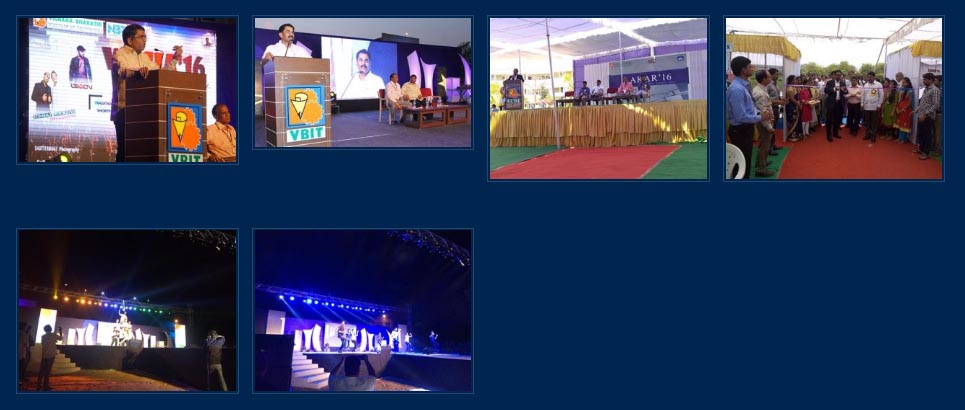 Mr. DKM Sharma, Ms. Swaroopa, faculty members of English and Mr. K. Sireesh, faculty member of Chemistry were the Convenors of Vibha – 2k16. Ms. Ashwini and Ms. K. Apoorva together with a few final year students took good care of the execution of the entire programme.
style="color: #008000;">11-04-2016
Aashay-Film club of VBIT has organized short film competition for engineering college students of twin cities in which 26 short films were screened.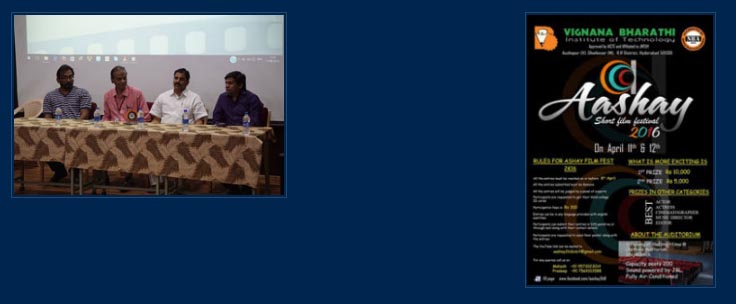 11-04-2016
Aakar-2016, an exhibition and competition of Projects developed and designed by final year B.Tech srudents was inaugurated by Mr.Bharani.K.Aroll, Vice President of Butler America Inc. & Cyberabad Security Council. 100 projects were exhibited by students of various branches of engineering.
Following industrial experts assessed the projects:
Dept. of ECE:
Mr.B.Madhusudhan, Sr. design project engineer, CSG.

Dr.J.Sai Baba, Former Scientist, NRSA.
Dept. of EEE:
Dr.K.Sumanth, Principal, Sree Nidhi Inst. Of Science & Tech.

Mr.A.Raju, Sr. scientist, DRDO
Dept. of CE:
Mr.S.P.Srikanth, Joint Director of Technical Education.

Dr.G.Subba Rao, HOD, Dept of Civil Engg, NNRG
Dept of CSE & IT:
Mr.Pankaj, CEO, Idea Labs

Mr.Prasanna Rambhatla, Associate Director, AT&T.

Ms.Madhuri, Team Lead, Computer Associates.
Dept. of ME:
Mr.Janakiram, Director, Vasista Tools.

Mr.G.Raj kumar, HOD, Dept. of ME, GuruNanak Institutions


7th & 8th , January, 2016
A 2 day workshop on "DIGITAL MANUFACTURING" about designing software SOLIDEDGE ST8 was conducted by AUTOMAAC, Dept. of Mechanical Engineering for III B.Tech. Mechanical Engineering students. The Department faculty, who conducted the workshop, provided hands-on experience to the students in understanding the software and using it.
07-01-2016
An orientation programme for IOT Makerspace, an incubation centre, was conducted on 7th, January, 2016 for a batch of select III B.Tech. students of CSE, IT, ECE & EEE. This programme, spread across the entire semester, is aimed at facilitating industry-institute interaction and create industry-ready professionals.Mr. Pnkaj Diwan, CEO of IOT Makerspace, carrried out the orientation programme.
04-01-2016
Dr. JSN Murthy, former Principal, was felicitated in formal function organized for the purpose. Dr. N. Goutham Rao, Chairman, Dr. G. Manohar Reddy, Secretary, Dr. KKV Sarma, Treaasurer, Dr. Amarender Rao, Principal, Dr. Jayant Kulakarni, Vice Principal, all the Directors & HoDs along with the teaching faculty and the non teaching staff joined the felicitation. Speakers on the occasion fondly remembered the services and contribution of Dr. Murthy for the development of the college.

December 2015
30-12-2015
The Department of Humanities and Sciences in association with Royal Society of Chemistry (RSC) organized a Guest Lecture on 30th December 2015. The session started with brief introduction about RSC by Prof. V. Peesapati, Secretary, Deccan Section (Telangana, Andhrapradesh and Karnataka). Dr. Unduri N. Das, FRCS, USA , delivered the lecture  on the topic "Chemistry of Exercise". The speaker provided interesting insights into the concept of physical exercise for men and women of all ages. Apart from the faculty of H&S, faculty members from other departments were also present.
29-12-2015
AUTOMAAC, Mechanical Engg. Dept. organized a guest lecture by Mr. Vishal Karan, Senior General Manager, Usha International Ltd on Total Quality Management on 29th December 2015. III & Final B.Tech. students and the faculty of the Mechanical Engineering Department attended the lecture. The speaker gave insights into the workings of a manufacturing company with global presence and wide variety of product base. The session was very informative and provided a refreshing experience to both students and the faculty.
22-12-2015
As a part of "ENTREPRENEUR DEVELOPMENT PROGRAMME" of MBA Department, a guest lecture was organized on 22nd December, 2015 by Mr. S. Rohini Kumar, Manager, Ernst & Young, California on the Topic: "India by 2025 – An NRI's Perspective" All MBA first and final year students and faculty members attended the lecture.
22-12-2015
IETE VBIT-SB launched a new activity club entitled "Forum for Public Speaking" on 22nd December 2015. Swamy Poornabodhamayananda from Rama Krishna Math graced the inaugural of the event as the chief guest. The objective of the forum is to provide a platform for the students to hone their public speaking skills. More than 120 students from all years of B. Tech. participated in the inaugural public speaking contest.
20-12-2015
Social Impact, Environment, Women Empowerment, Education, Old age Home wings of Street Cause Unit of VBIT has distributed their members across Hyderabad and conducted 30 activities on the same day. Following are the list of activities conducted:
Event 1: Waste Management
Place: MI Orphanage, Malakajgiri
Description: The children of the orphanage were shown the different steps that could be taken for proper waste management(eg:biodegradable pits)
Event 2: Planting Saplings
Place: MI Orphanage, Malakajgiri
Description: The children were helped in planting saplings and to show them how to use the degraded material as manure for the plants
Event 3: Teaching Soft Skills
place: Arunodaya Trust, Dammaiguda
Description: The children of the orphanage were made to understand the importance of the 'Universal Language' and were asked to express what they had learnt through activites like jam sessions and self-introduction sessions.
Event 4: Home Made Remedies
Place: Arunodaya Trust, Dammaiguda
Description: The caretakers and children were taught how home made remedies for different issues could be made with ease( 5-6 tulasi plants will planted so that they can be used whenever needed, honey bottles-3-4,salt packets -2) in order to help reduce medical costs and help them make the best of nature.
Event 5: Visit to an Old Age Home
Place : Sahaya , Malakpet
Description: In order to give back to the elderly, what they have given to the society, the team visited the old age home to spend a day with the people there. The teary eyed people there were given few goodies for personal use.
Event 6: Painting Competition
Place: Adarna, Malakpet
Description:A painting competition was conducted among the children of the orphanage in order to help them explore their creative side.
Prizes were given to the winners.
Event 7: Health Awareness Drive
Place: Nemarugomula
description:The team interacted with the residents of the area and spoke to them about the health hazards they face due to life over there, preventive measures to be taken and explained to them the advantages of following basic hygiene.
Event 8: Stationery Distribution
Place: Nemarugomula government school
Description: Books and stationary were provided to the students of a government school..The students were also made to understand the importance of a good education.
Event 9: Career guidance
Place: Shalam children home
Description: A team of Street cause VBIT conducted a brief session on career guidance in the children's home at Ramanthapur . An hour long session was held to aware the children of the Shalam home about the step towards their future.
Event 10: Awareness on basic medication
Place: Shalam children home
Description: Nowadays with growing population the severity of the diseases have been hooted up. The primary motto of everyone is having good health in order to maintain this is prevention else medication. First aid is the most important thing that one should learn. Street cause VBIT conducted an awareness program on the basic medication where the children were taught about basic medicines which are present in our surroundings and its importance in curing the diseases naturally.
Event 11: Awareness on wearing helmets
Place: L B nagar cross roads
Description:A chocolate was offered as a token of appreciation to the people wearing helmets while driving a two wheeler. The team has presented posters regarding the same.These posters were displayed in the surroundings of LB nagar to create a positive impact. 
Event 12: Awareness on road safety
Place: LB nagar
Description: The people were alerted about the negative impacts of using phones while driving and also pollution caused by the drawings and posters on roads. Charts were displayed alerting the people about causes of accidents.
Even13: Clothes distribution
Place : Vidyanagar
Description: During these chilling winters clothes are the basic necessity to be given. Taking this into consideration Street Cause VBIT has done a clothes distribution drive on the roads of Vidyanagar where the needy old people are given proper clothes.
Event 14: Awareness on conserving electricity
Place: Vidyanagar
Description: Street cause team visited an orphanage in Vidyanagar and conducted sessions regarding conserving power and electricity. They also held Awareness sessions on cleanliness and basic disciplines.
Event 15: Awareness of dengue
Place: Tankbund
Description: As it is winter and around Tankbund there was lot of bad odour from the water Due to which dengue causing mosquitoes are more prone to that area. The people nearby Tankbund are knowledged about the severities as well as face masks are distributed to avoid the pungent smell.
Event 16: Awareness on pollution
Place: Tankbund
Description: People were alarmed about the negative impact of excess pollutants caused by vehicles keeping in mind of Beijing scenario as the whole city was at red alert for two days due to coarse air pollution.
Event 17: GRAMEENA VIDYA,
Venue: Cherial village, Warangal district
Description:The team members started the event with a huge rally at 9.00AM, conducted to bring awareness among people about women empowerment, child labour, child education. By 10.30 AM, competitions like essay writing, elocution, drawing and painting, poem writing for children had started. A total of 150 students participated in this event. This was exclusively for Government school students. The students participated very actively as the topics were about the burning issues and our main motto was to bring awareness among people. By 1:00PM , lunch was provided to all the students. Girls were separately given a seminar about sanitation by the team members. Prizes were given to them and participation gifts. The villagers were very happy because for the very first time youth took an initiative to bring the village on the map.
Event 18: Following Traffic Rules
Venue: Jubilee Hills check post.
Description: The team took to the roads of Jubilee Hills in order to spread awareness about the importance of following traffic rules and as a token of appreciation , distributed chocolates to people who wore helmets on bikes and had their seat belts on in cars.
Event 19: Awarness on protecting the Environment from global warming.
Venue: Slum near Annapurna Studios.
Description: Every individual is capable of making a difference, and so, the team visited a low lying area in order to tell them about the cause and affects of Global Warming so that they can grow up and work towards a cleaner and pollution-free Earth.
Event 20: Awareness on Preventing Diseases
Venue: Slum near Annapurna Studios.
Description: The homemaker women of the area were taught how to take preventive measures against harmful diseases like swine flu , dengue etc. The concept of carriers, communicable diseases and epidemics were explained clearly and masks were provided.
Event 21: Event at an Old Age Home
Venue: Shalom Old Age Home
Task – :Provided General Medicines
Description:The team spent the morning with the elderly living in that old age home and provided medicines that they were in need of.
Event 22: Plantation drive
Venue: Gowtham concept school
Task-Planted Saplings
Plants-1.Crotons 2.Small flowering plants
Description:Several saplings were planted at the school by the team. The plants will henceforth be looked after by the support staff of the school.
Event 23: Traffic Safety Awareness
Venue: Nagole , LB Nagar
Description: An awareness campaign was conducted in order to spread awareness about the ill effects of driving under influence (alcohol) and the usage of cell phones while driving. Residents of the localities joined this rally to support the cause.
Event 24: Personality Development Campaign
Venue: Bala Sathwika Orphanage, Nagole
Description: The team visited Bala Sathwika ,an orphanage in Nagole,in order to conduct classes regarding Personality Development and Soft Skills . Later ,a seminar was conducted for girls regarding cleanliness & sanitation. Games were conducted for children and essentials were provided.
Event 25: Importance of Education
Venue: Vatsalyam voluntary organization, Nagole
Description: The children at Vatsalyam voluntary organization were given an overview of the importance of education and moral values. The children were given towels, pens and chocolates.
Event 26: Wear a Helmet Campaign
Venue: Uppal
Description: The team came together to spread awareness about the importance and benefits of wearing helmets. Banners and placards were held up at Uppal circle. The campaign was well supported by the traffic personnel and residents of the locality.
Event 27: Anti-Dengue Campaign
Venue: Nagole
Description: In order to protect the residents of the slums around Nagole from the various diseases caused by mosquitoes, mosquito repellants were distributed among all the people living there. The slums were a breeding ground for mosquitoes and other carriers and hence caused great problems for the residents of those areas.
Event 28 : Spreading the Christmas Spirit
Venue: Happy Home Foundation, Vidyanagar
Description: In order to share the joy the season of Advent brings, Christmas cakes and cookies were distributed in the orphanage by our team, all dressed in Santa caps and high Christmas spirit. The children were given goodies and more importantly, were given memories that will last a lifetime.
Event 29: Counseling-Life skills
Venue: Friends Foundation, Narapally
A very important aspect of any person's lifestyle, life skills. We decided to take this opportunity by interacting with the kids of the orphanage and counseling them about life skills. All the kids were quite enthusiastic and we're curious to learn and know more. The team hopes they could inspire at least a few of the children to work towards being a better version of them.
Event 30: Menstrual Hygiene
Venue: Friends Foundation, Narapally
Description: The girls of the orphanage were explained the entire process of menstruation and the occurrence of the Menstrual cycles. The myths which were followed by them blindly were busted. Soon after the entire session of how to maintain hygiene during periods, there was a one on one session with each and every girl. Their personal problems were listened to keenly and we tried provided our best solutions we could. Few of the girls with serious issues were advised to consult a gynecologist.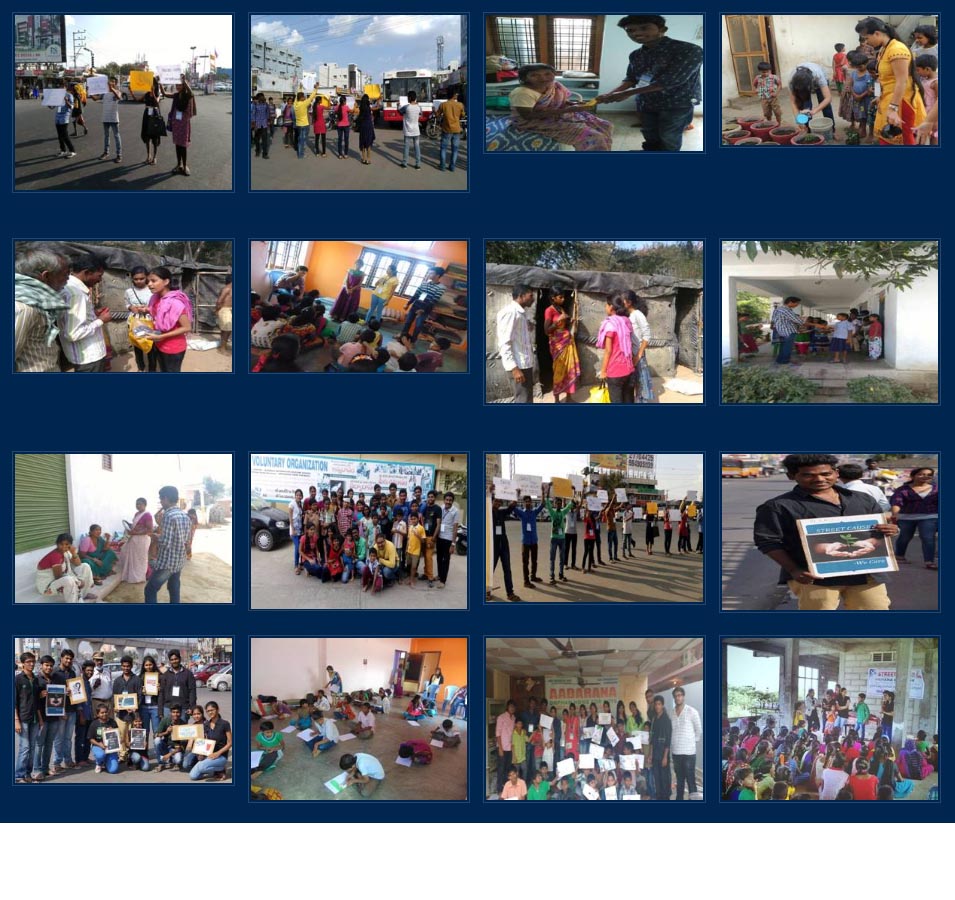 19-12-2015
A one-day workshop on "Cloud and Blue mix services" was organized for III CSE & III IT students on 19th December, 2015. A total of 100 students attended this session. All the III yr faculty members of CSE and IT were also present.

18th &  19th December, 2015
A two-day workshop on ATMEL Projects was conducted by Technolexis on December 18th &  19th, 2016 for III B.Tech. ECE students.
05-12-2015
A survey camp entitled "Sadhana 2K15" was held between 30th November, 2015 and 5th December, 2015 for II B. Tech. Civil Engg. students. The main objective of the Survey was to expose the students to the various tools used, practical field conditions and difficulties involved in conducting a field survey.
The Camp included activities like surveying the land, calculation of the areas,measuring the levels of the ground, finding the formation levels of roads and also to estimate the construction costs  involved in a project right from levelling and excavation work.
11-13, December, 2015
The "XXIV Congress of Andhra Pradesh Society for Mathematical Sciences (APSMS) & National Conference on Recent Developments in Mathematical Sciences and their Applications to Science and Technology" was conducted by the Dept. of Mathematics & Humanities and Sciences, Vignana Bharathi Institute of Technology (VBIT), Ghatkesar on 11-13, December, 2015. Prof. T. Papireddy, Chairman, Telangana State Council for Higher Education graced the occasion as the chief guest.
Dr. P. Kousalya, HoD of Mathematics and Humanities and Sciences Department was the Organising Secretary of the Conference. A total of 137 papers were presented in the conference of which 55 papers were going to be published in the Global Journal of Pure and Applied Mathematics.

A Guest Lecture entitled "GNSS: Signal, Antenna & Science" was delivered by Dr. Nirvikar Dasshora, Senior Scientist, National Atmospheric Laboratories (NARL), Gaddanki. The lecture was conducted by the R&D Dept., VBIT and was attended by faculty members from all the departments.

November 2015
14-11-2015
Parent-Teacher meet for Ist  Year B.Tech Students was organized in the college campus.
October 2015
31-10-2015
Social Impact wing of Street cause VBIT has distributed blankets for orphanage people who are living on the roads in different areas of Hyderabad.

25-10-2015
Women empowerment department of Street Cause VBIT visited Friends foundation at Narapally to conduct a brief session on the cleanliness and sanitation of women as they reach different stages of life


25-10-2015
The education department of Street Cause VBIT visited Tara foundation in order to teach the children about basic yoga, which they can practice every day for a healthy life style.


18-10-2015
Street Cause unit of VBIT has organized Dengue awareness campaign at Nagole slum area to spread awareness about the growing risk of the diseases and Homeopathic medicines were distributed to them.


16-10-2015
IEEE-WIE VBIT SB has organized "ELOQUENCE"-an inter college event in 80 students from various branches have participated in group discussions and Jam sessions.
09-10-2015
Dept. of ECE in association with IEEE-VBIT SB has organized a guest lecture on "Over view on Antennas & Applications" by Dr.M.Lakshmi Narayana, Vice chairman of IEEE Hyderabad section & Principal of Kshatriya college of Engineering, Nizamabad.
06-10-2015
Dyuthi-NSS unit of VBIT has organized Orientation Day for freshmen candidates. 150 students participated in this event. Prof.Nimma Naik, NSS Programme officer from JNTUH was the chief guest for this event.
04-10-2015
Street Cause unit of VBIT has visited Thara foundation, bowenpally and taught students about drawing, painting, making some useful items out of paper etc. The kids were very cooperative and they loved the way the team interacted with them.


04-10-2015
Street Cause unit of VBIT has visited Old age home at Kothapet and distributed Fruits to all people and made them happy by having combined lunch with them as a family.


03-10-2015
IEEE-VBIT SB has participated Section Student Congress (SSC) held at Hyderabad Central University on 3rd & 4th October 2015.
03-10-2015
Dept. of CSE has organized a guest lecture on "Dissection of C language" by Mr.K.Durga Naveen kumar, CEO, Coign Technologies pvt. Ltd for II CSE & IT students at chethana auditorium.

September 2015
28-09-2015
Dept. of MBA in association with Vandemataram Youth Front organized interactive workshop on "Transforming Yuva Bharath into Sresht Bharath" for B.Tech & MBA students.
21-09-2015
Induction Programme for 1st MBA students was organized at Chethana auditorium in the college campus.50 students along with their parents have attended this programme.
21-09-2015
Department of IT in association with Street Cause unit of VBIT has organized "Design O Utsav"- workshop on Adobe Photoshop for Graphic Designing on 21st & 22nd September. 100 students from various branche og engineering participated in this workshop.

September 2015
21-09-2015
Release of "STUTALK" (College magazine) – Volume-IX Issue-III by Mr.C.H.S.L.N.Sridhar, HOD of H&S dept…

September 2015
19-09-2015
VBIT hosted NAIPUNYA- Sports Fest conducted by ABVP from 19-09-2015 to 26-09-2015..

September 2015
15-09-2015
On the occasion of Engineers Day, IETE-VBIT SB has organized Essay writing competition on "Wheel to Wi-Fi- Journey of Engineer". 50 students from different branches of engineering participated.

September 2015
15-09-2015
On the occasion of Engineers Day, IEEE-VBIT SB has organized a session to elucidate the advancement of Indian Engineers' in the field of technology.
September 2015
15-09-2015
On the occasion of Engineers Day, department of EEE has released ELECVOICE – A complete EEE dept. activities magazine (Volume-IV, Issue-01).

September 2015
10-09-2015
Department of CSE & IT has organized two day workshop on "Android Application & Development" for III CSE & IT students by Mr.K.Naveen Reddy, Technical Lead, Coign Edu & IT Pvt. Ltd., Hyderabad.
06-09-2015
Street Cause unit of VBIT has organized a a green initiative at Dr. KKR Gowtham Model School  by planting 50 saplings in the campus and urged the students , faculty and support staff to plant saplings in order to have a green campus


August 2015
15-08-2015
69th Independence day celebrations were organized at college campus. Dr.N.Gowtham Rao, Chairman, VBIT has hoisted the national flag on this occasion.
15-08-2015
As apart of IEEE week, IEEE-VBIT SB has released an issue of digital news letter of IEEE-VBIT SB. Valedictory was also conducted for IEEE week on the same day.
14-08-2015
IETE-VBIT SB has organized an event "VIDHMAAN" for ECE students to strengthen the technical skills of students by conducting JAM & Quiz sessions on advance technical topics.
14-08-2015
As a part of IEEE week, IEEE-VBIT SB has organized Student Training Program on Web Designing in which 85 students from different branches have participated.
13-08-2015
Anti ragging awareness programme was conducted for II B.Tech students by Mr.Ravinder, Circle inspector of Ghatkesar police station.
13-08-2015
As a part of IEEE week, IEEE –VBIT PES SB has conducted an event with title "IDEATE" to explore innovative ideas from students. Discussions were made on current topics prevailing in India with solutions.
12-08-2015
Communication Society (Com Soc) of IEEE-VBIT-SB and Dept. of ECE have organized Industrial visit to RTTC, BSNL, Gachibowli, Hyderabad. All final year students were participated in it.
12-08-2015
As a part of IEEE week, IEEE-VBIT WIE SB has organized Student and Teacher Research Programme (STAR) for 8th, 9th & 10th class students of government school of Jameelapet. Students were given training on basic computer knowledge and internet in this event.
12-08-2015
Street Cause unit of VBIT has organized a Career Guidance program for school children at Gautam High School.


11-08-2015
Visit to Sriram Sagar project by III & IV Civil engineering students.
11z-08-2015
As a part of IEEE Week, IEEE-VBIT SB has organized "A talk on Entrepreneurship" by Dr.Amit Kumar, CEO, BioAxis DNA Research Centre, Hyderabad.. 150 students from different branches of Engineering attended this lecture.
03-08-2015
Induction Day Program for Ist year B.Tech students was organized at the college campus. 900 students along with their parents attended the programme.
02-08-2015
Street Cause unit of VBIT has organized a Training program under the social impact department conducted an event on making paper bags for students at Grace Children home at Sainikpuri.


July 2015
25-07-2015
Dept. of ECE has organized introductory talk for II & III ECE students on activities by proposed TECHNOLEXIS- VBIT incubation center. Mr.Mukesh Chauhan, Director-R&D, TECHNOLEXIS was the speaker.
 25-07-2015
Dept. of Mechanical Engineering has organized a guest lecture on "Perspectives in Mechanical Engineering" for III & IV ME Students by Mr.Janaki Ram, Managing Director, OM Triple India R Pvt. Ltd.
24-07-2015
Dept. of ECE has organized a Two day Research oriented workshop on "Recent Trends in Advanced Communication Technologies & Simulation" on 24th & 25th July, 2015.40 faculty members from various engineering colleges have participated in this workshop. Dr.P.Trinatha Rao, Associate Professor, Dept. of ECE, GITAM University was the chief guest for Inauguration.
12-07-2015
Street Cause unit of VBIT has organized an environmental awareness campaign on the importance of using Bicycles to reduce Environmental pollution at Necklace road.

June 2015
27-06-2015
Faculty forum of VBIT has organized a guest lecture cum interactive session on "Imparting Ethics & Values to the present day Student" by Ms.Aruna Saraswathi, All India Head of Women forum of Bharathiya Shikshana Mandal in which 220 faculty
members have attended.