Harith-Eco club

ECO-CLUB  VBIT  is a  green  initiative  by the  students  of  Vignana  Bharathi  Institute  of Technology, Hyderabad to create awareness about the good environmental practices and to green the Earth. Henceforth, we the students of VBIT, have taken this challenge as a means to conserve our mother earth with our motto, "It's time to pay back mother earth"
Vision
Our Vision is to create sensitivity towards environment & to awaken the philanthropic side of mankind.
Mission
Our Mission is to connect people by building and bonding relationship with the trees & to facilitate contribution from everyone who would like to enrich nature in a significant way.
Many of the development activities in and around us are coming at the cost of depleting natural resources. Due to such activities, the self-repairing, self-recovering systems like green scape, water scape and mind scape is under great stress.
Seeing this, our idea is to reflect on the state of our towns and cities and make it a better place of living. We are also intended to remind the world of its collective responsibility for the future of the human habitat.
09-03-2018
Harith-Eco Club of VBIT has organized Prakruthika 2K18 in which events like Nature Photography challenge, Nature Bucket Challenge, Techvironmental Expo,  Poster making etc were conducted in which 200 students from various departments were participated. Dr.Shakeel Ahmed, Chief Scientist, NGRI was the chief guest for this event. Dr.Saheb rao Sol Kamble, scientist, NGRI delivered a guest lecture on Wetland & Water Management on this occasion.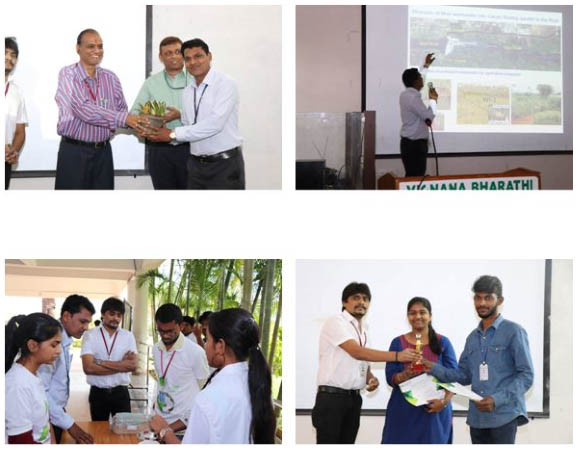 28-02-2017
Harith-Eco club of VBIT has organized Prakruthika-2k17 on the occasion of National Science day in which events like paper & poster presentations, Eco Quiz, shodha- Elocution etc. Eminent Environmentalist Mr.vijaya RamaRao garu was the chief guest for this event.

Major Activities (2015-16)
July, 2016
11th July, 2016
Principal, faculty and students of VBITparticipated in the large scale tree plantation programme held in the village of Aushapur, Ghatkesar mandal in Rangareddy (Dt) as part of the 'Haritha Haram' initiative by the Government of Telangana.



February 2016
27th February, 2016
The Ecoclub of VBIT conducted an event Praakruthika on 27th, February, 2016 as part of the National Science Day Celebrations to create awareness among the students about the importance of environmental protection. A variety of events like the Botanical Garden, an exhibition of various medicianal plants, Best from the Waste and a Poster Presentation were held. Selfie with Nature, an innovative contest was also conducted for I.B.Tech. students.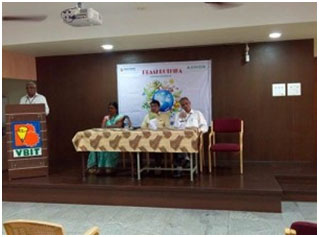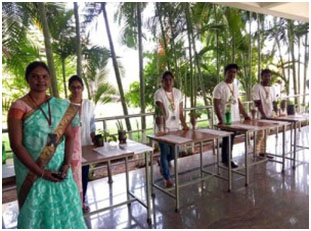 January 2016
30-01-2016
A poster on the theme of Conserving our Earth for a Better Future was released on 30th, January, 2016 by Ecoclub of VBIT. Ms.Hema Latha, Asst. Professor of Chemistry coordinated the event


Major Activities (2013-14)
Date: 16-09-2013 (World Ozone Day)
Name of the events:
Harith-The Eco fest:
Eco Club of VBIT organized HARITH-The Eco fest on the occasion of world ozone day. The main theme of the fest is to create awareness among the students regarding the conservation of environment in which Ozone layer in stratosphere plays a key role by absorbing the ultra violet radiations reaching the earth. The major events in this fest are Green ppt, Green click, Poster designing, creative expo and Eco IQ. 260 students participated in this eco fest from different colleges of twin cities.
Dr.Gopa dutta, Director of R&D VBIT elivered a key note address on the importance of ozone layer and the role of engineers  in conservation of environment.
Dr.J.S.N.Murthy, principal of VBIT, Dr.Jayant kulkarni,V.P of VBIT spoke about the importance of ozone day. Mr.K.Naresh kumar,Assistant professor and  faculty coordinator of Eco Club, Jivin.c.jose,Charishma reddy and Abhijit of III ECE and other Eco club members organized the fest.
Major Activities (2012-13)
Date: 28-02-2013 (National Science Day)
Name of the events:
1. Poster making competition for I B.Tech. Students
2. Best out of waste
On the occasion of National Science Day, Poster Making competition on various environmental issues and Best out of waste activities were conducted for I B.Tech students. 185 students were participated in both of the events and made the events a big success.
Date: 19-09-2012
Name of the event: Disribution of clay ganesh idols
To create awareness about the ill effects of using ganesh idols made with chemical substances, Eco club in collaboration with NSS and street cause VBIT distributed clay ganesh idols to large number of students and faculty
Date: 15-09-2012
Name of the events:
1.Poster making competition
2.Plantation drive
On the occasion of Engineer's day, Eco club organized Poster making competition on various environmental problems and solutions.71 students participated in this event.
Plantation drive was conducted in collaboration with street cause in which 30 saplings were planted in VBIT campus 
Date: 15-09-2012
Name of the event: Awareness on Energy Conservation
Members of eco club conducted a awareness campaign in the campus on the importance of conservation of energy through distributing posters on power saving
Save POWER.
Switch off fans and lights when not required.
ECO-Club, VBIT
Date: 15-09-2012
Name of the event: Eco club inauguration
ECO-CLUB VBIT is a green initiative by the students of Vignana Bharathi Institute of Technology, Hyderabad to create awareness about the good environmental practices and to green the Earth.
Eminent Environmentalist Mr.Vijaya Ramarao garu inaugurated Eco club and delivered a good inspiring lecture about the importance of environment conservation